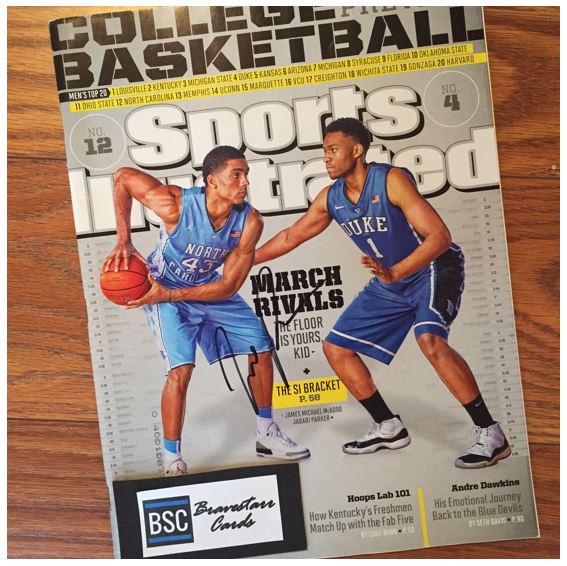 TTM Stats
Sent: 10/27/2017 | Received: 12/18/17 | 51 Days
Sports Illustrated 11/18/2013
Address: Milwaukee Bucks
The Story of the Autograph
Jabari Parker is a forward with the Milwaukee Bucks in the NBA. He was a one-and-done college star at Duke and was the second overall pick in the 2014 NBA Draft.
You have to start Jabari's story in high school. He went to Simeon Career Academy in Chicago and won four-straight state championships. He was the first freshman to start on the varsity team in school history. His skill and reputation only grew threw high school and he went into his senior year as the consensus number one player in the country. He would be sidelined by a foot injury during that year though. By the end of that year he was already receiving scholarship offers. At the end of the 2013 season he was named the National High School Player of the Year by Gatorade and McDonald's.
At Duke e continued his success. He was a pre-season All-American and was named the preseason ACC Rookie of the Year. Duke would have a pretty good regular season and would get some big wins while Jabari racked up the stats. However, after being made the Midwest Region #3 seed in the tournament, Duke would be upset by #14 seed Mercer in the first round. Parker would became the first freshman to lead the team in both scoring and rebounding at 19.1 points and 8.7 rebounds per game respectively.
The Bucks selected him as the second pick in the draft and he had some OK games to start out his career but in December of his rookie season he tore his ACL and that ended his season. He came back after the start of the 2015-16 season. He dealt with another injury to his foot that caused him to miss some games again. He was playing better and then in February of the 2016-17 season he had torn the ACL of his left knee, his second in that same knee. He's currently recovering in the G-League.
Hopefully Jabari won't go through any more injury woes because the Bucks look like an exciting young team that could use his presence.
The Score on Jabari Parker – 4.5


Jabari's signature is pretty solid, but there are a couple things I don't like about how it came out. I think the main things is that he signed over the other player on the magazine. That's not a problem, but if I was to try to get McAdoo's signature it might be a bit awkward. The other thing is that the marker was not great. It's either that or it has to do with the speed of the signature.
Something I like is knowing that Jabari is not with with the Bucks and is in the G-League, this still got to him. I think it's great that it made it too him and he still signed it. I've been seeing him sign a bunch lately for others so I was excited to get this one back.
Thanks Mr. Parker! I'm giving this one a 4.5.
>>> READ MORE ABOUT MY AUTOGRAPH SCORING SYSTEM <<<
Thanks for visiting BravestarrCards.com: Card Collecting and TTM Autographs.