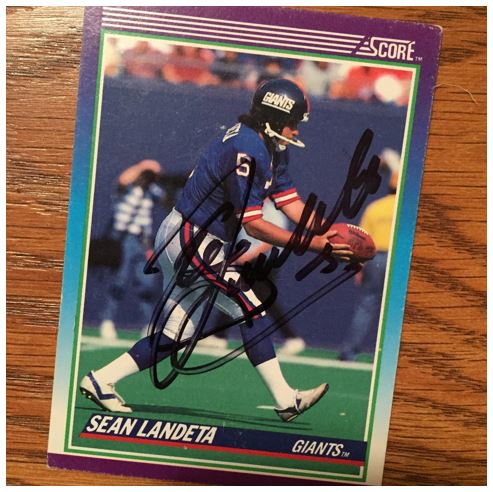 TTM Stats
Sent: 10/25/2017 | Received: 11/15/17 | 20 Days
'87 Topps, '91 Score (None of the cards I sent came back)
Address: Home (Sent to NY and returned from Philly)
The Story of the Autograph
Sean Landeta played as a punter in both the USFL and the NFL over 22 seasons.  While he played for a bunch of teams I remember best (and I would think most people do as well) with the New York Giants where he spent 10 seasons (9 in his first stint) and the Eagles where he spent 5 season (4 in his first stint).
His early years in the NFL with the Giants were great. He made All-Pro three times, the Pro bowl twice, the All-Decade team for the 80's and 90's and won two Super Bowls during that time. But Landeta's career, while great when he was younger, was also long. Yes, punting isn't as taxing as other positions, but you can't play that long and not be good. Sean was always consistent and consistently good. If you're a defensive player, a punter can put you in a good spot if he's good. With 381 punts inside the 20 in his career was among the most for a career at the time he retired.
The Score on Sean Landeta – 3.0


This is definitely not the first time this has happened to me. I've gotten someone else's cards before, but this is a little odd in that I got none of my cards back. Usually there's either some overlap or you just get one card snuck in there. I checked the postmark and these came from Philly but were sent to Long Island. Maybe that was part of the issue. Also interesting is that I got three cards back with only two signed.
The Topps card I got back is just an absolute mess. It got some smearing and just doesn't come off well. Something else I noticed is the inconsistency between the cards. The Topps card is done small and it looks like he would have tried to avoid signing his face but there is plenty of room for a signature below. On the Score card he signs over himself and makes it nice and big.
The smearing is obviously a quality issue but the marker used isn't strong either. The consistency between the two cards, getting back different cards and all that goes into the score. I'll be trying Sean again in the future but these cards aren't a quality return I'd say.
Thanks Mr. Landeta! These get a 3.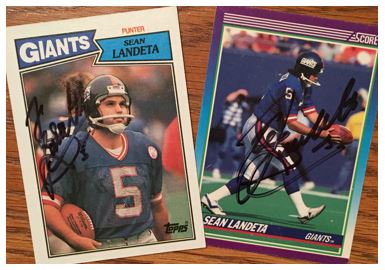 >>> READ MORE ABOUT MY AUTOGRAPH SCORING SYSTEM <<<
Thanks for visiting BravestarrCards.com: Card Collecting and TTM Autographs.