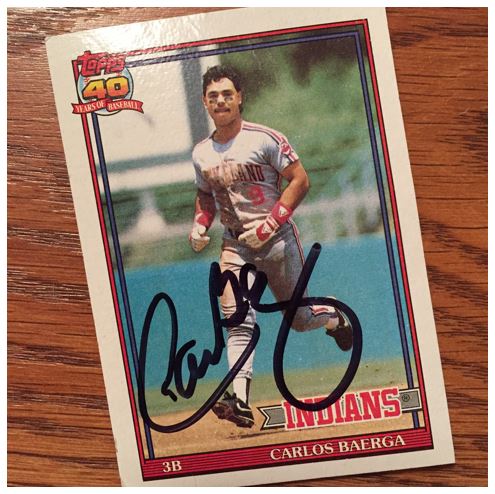 TTM Stats
Sent: 7/10/2010 | Received: 11/14/17 | 2644 Days
'90 Bowman, '91 Topps, '92 Topps, '93 Hostess
Address: Home
The Story of the Autograph
Carlos Baerga is a former second baseman from Puerto Rico.  He played for 16 years with several different teams: Cleveland (twice), Mets, Padres, Red Sox, Diamondbacks and Nationals. He also spent a year of his career in Korea with the Samsung Lions.
In the beginning of his career Carlos was a pretty good player and through 1995 he won two Silver Slugger Awards and made the All-Start team three times. He did this all while playing for the Indians. He was drafted young and came into the majors at 21. His home run numbers would creep up in those years and he could put up a good average. He became the first second baseman since Rogers Hornsby to have back-to-back 200+ hit, 20+ home run, 100+ RBI, and .300+ average seasons.
In 1996 he was traded to the Mets and didn't finish out the season well. The next couple seasons in New York wouldn't be much better either. Towards the end of the decade knew injuries would catch up to Carlos and he was out of the major leagues in 2001 and spent time with the Long Island Ducks in independent league baseball and then in Korea. He would retire and buy his home town baseball team.
He came back in 2002 with the Red Sox. He could still play a bit, but injuries would keep bothering him as he was getting older. I saw Carlos play at the end of his career in RFK Stadium with the Nationals in their inaugural season. Not that there was anything special about it, but I do remember him on that team.
The Score on Carlos Baerga – 6.5


After 2644 days, this one comes back. I feel like this could have some documentary movie written about it. First, that was July of 2010 if you're trying to do the math. Second, the envelope was pretty beat up and had a little tape on it. Third, it was even address to the last house I lived in. This was sent out two and half years before I even moved from that place. I have no idea how it came back to me, but like some strange paper boomerang it found its way.
And none of that is by any fault of Carlos. I've seen him sign for others in that time. You might be able to see how bent these are and at least one is creased, but it's not too bad considering what might have happened to these including coming out of the envelope.
I really like Carlos' signature. As always, a lower case "g" is a great part of the signature. Carlos puts a lot into his capital letters too. This was done in a strong marker and they held up somehow.
Thanks Mr. Baerga. I'm giving these a 6.5.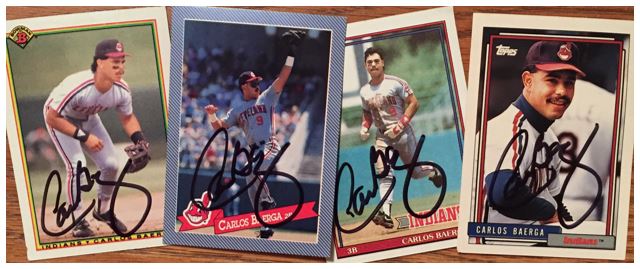 >>> READ MORE ABOUT MY AUTOGRAPH SCORING SYSTEM <<<
Thanks for visiting BravestarrCards.com: Card Collecting and TTM Autographs.