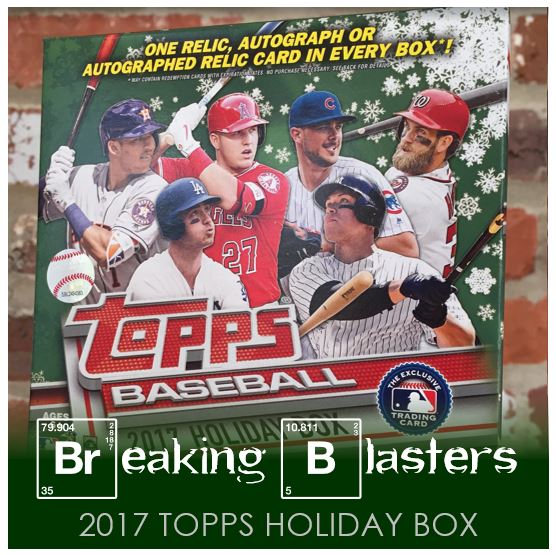 2017 Topps Holiday blasters *might* be on the shelves of your local Walmart. I said "might" because the first Walmart ventured past had a power outage and they weren't open. Who knows if they had them there because I couldn't get in, but I also can't see in the dark. The second reason I said "might" is because of the way baseball cards are on the shelves this year. Or should I say not on the shelves.
I feel like every time I'm in a Target or Walmart that it's slim pickings. I don't know if this is because the products are in demand or if it's because they are lightly stocked these days and run out. This year it was a struggle to find A&G, Stadium Club, Heritage and even Series 2. The only thing I remember sticking around is Topps Series 1. In fact, I still see them on the shelves. I'm not sure what's changing, but something's afoot.
Because of all that, I grabbed two boxes.
Is this a White Christmas (like Bing Crosby) or a Blue Christmas (like Elvis). Or is it a Holiday more like that of Madonna. Let's dive in and see what's in there.
2017 Topps Holiday Base

Aw, snowflakes! That's really the big thing on these cards. There are the white snowflakes at the top and then a little hint of them underneath the gradient at the bottom of the card underneath the name and logo. The snowflakes are set behind the player but in front of the background of the image.
I'd kind of compare these to Opening Day cards in a way. They have the metallic logo so they are a little more on the higher end, but there are very little inserts and parallels. That said, the parallels (see below) have a metallic snowflake and the inserts are all relics, autographs, or autographed relics.
I opened two boxes and almost completed the set. I think I have 8-10 cards out of every 10 and the full set is 200 cards. It's a lot of big names and rookies. I think a third box might have still left me a little short, but with a lot of doubles.
2017 Topps Holiday Metallic Snowflake Parallels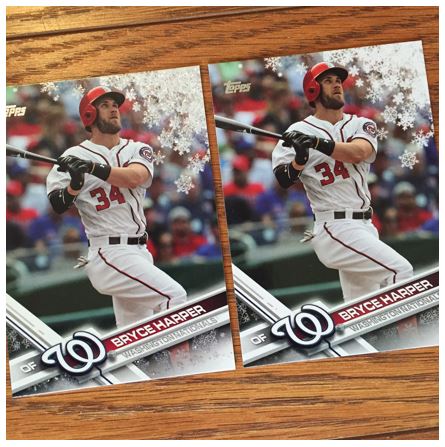 I hope you can see the metallic snowflakes above. These cards were in every other pack in the blasters I opened. The one thing that I liked is that when I got one of these it was of the big name player (like Bryce Harper above). I only got maybe one or two of mid-level players and the rest were pretty big names. It can't be like that in every blaster as these are a parallel to the set.
The one thing I wondered about is how the metallic snowflakes work on the back of the base cards. It basically looks like there is glitter on the cards. I didn't notice any scratching, but it almost looked like if you sat the metallic card behind another card it would scratch it. It's smoother than you think but you do see a little bit of a bevel or raised part of the card.
2017 Topps Holiday Relics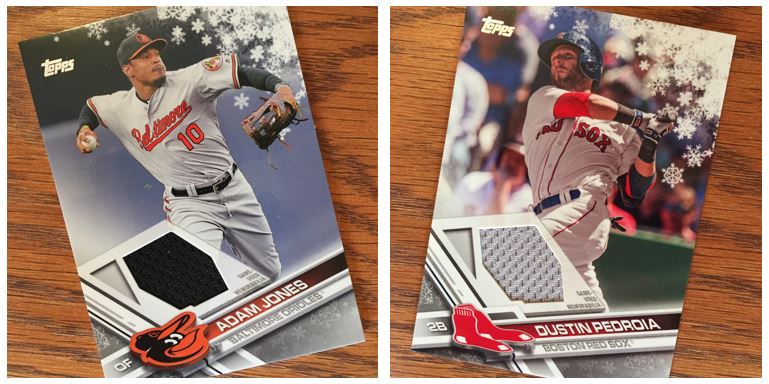 I don't normally get good named relics. These I would say are pretty good (at least for me). The jerseys aren't fabulous, but the Adam Jones one is interesting. I would think white and gray are the standard uni's. So the black I think would be from some kind of alternate jersey. I like that that was included as the relic. Obviously the idea is to get something more interesting than one color, but I think you get what you get and don't get upset with this product. It's not like the price point is high.
2017 Topps Holiday or Not? (Errors?)

I didn't complete the set as I mentioned earlier, so I haven't seen every card. But I did find these three. Are these errors?
You can see that they have the snowflake affect at the bottom, but then there's nothing in the top right corner. These were the only three I found in the two boxes I had. I didn't get any doubles so I have no idea if this is normal or not. I would imagine this would not be an error they would correct if it is an error.
General Thoughts on 2017 Topps Holiday Boxes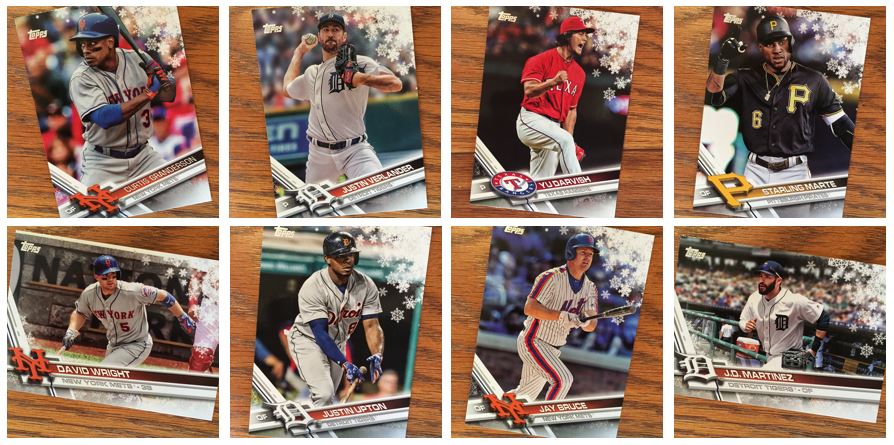 Anything you notice in the pictures above? I see a couple issues with these.
First, this is after update. Could we please get cards that have updated pictures? Six of these guys changed teams. If you don't include these guys because you don't have an image (and with all the ToppsNow stuff you have to have one) do you think someone is going to miss these guys. For real, who is going to miss Upton, or even Granderson? Maybe the others, especially Verlander, Darvish, and Martinez.
The second thing is, and remember I am even a Mets fan, why do we have a card for David Wright? He played zero games this year (I wonder if he will even have another game ever). This one almost is like rubbing it in. A little bit of a, "Hey here's a guy you wish you could see!"
And the last thing is with regard to Starling Marte. Should we include a guy who had an 80-game suspension for PEDs?
I like that two boxes almost gets you the set, but a third would be overkill. I don't think this set needs to exist though. It's just another way to put out more Judge and Bellinger cards I guess.
This is a Walmart exclusive product. So don't go someplace else thinking you will find this. I think overall I am leaning more toward Blue Christmas, but not full on in that direction. It's fine, but maybe a little more toward the sad song side of things.