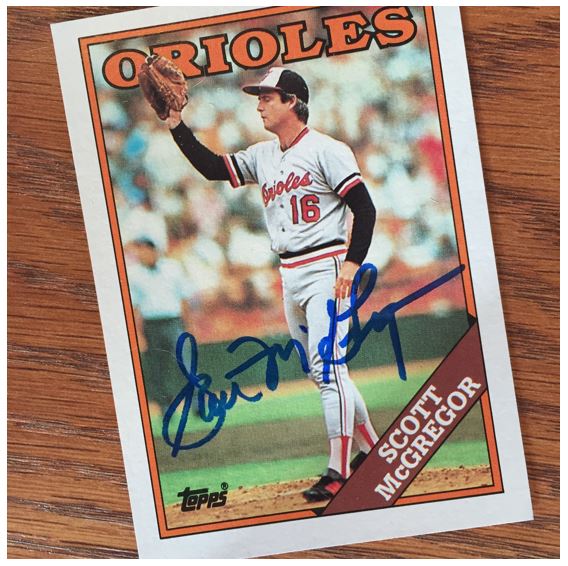 TTM Stats
Sent: 11/18/2017 | Received: 12/2/17 | 14 Days
'81 Topps, '88 Topps
Address: Home
The Story of the Autograph
Scott McGregor spent his whole career in Baltimore as a left-handed starting pitcher. He had a few really great seasons and pitched in some really big games for the O's.
While he got his first taste of the majors in 1976, Scott's first major success came in the 1978 season when he went 15-13 in 32 starts. After a pretty good 1979 (13-6) he would pitch the clinching game in the 1979 ALCS against the Angels. He also pitched the Orioles to a Game 3 victory in the World Series that year, but would also take the loss in Game 7 against the Pirates after only giving up two runs over 8 innings.
1980 would be his best statistical season with 20 wins (and only 8 losses) a 3.32 ERA and a career high 119 strikeouts. He was selected as an All-Star in 1981 and it would be his only All-Star Game appearance for his career. 1983 was another great season for McGregor as he would help the Orioles make the World Series and  become champions by beating the Phillies. He would lose the opening game, but in game 5 he would pitch a shut out and end the series 4 games to one.
McGregor grew up in southern California and played high school ball with George Brett.
The Score on Scott McGregor – 7.5


This might be one of my favorites of the year. There's a lot to be interested with in this one. After thinking about it, this might be might first "Mc" last name of the year the way Scott does that in his signature is classic with the little dash after the "M". That's pretty old school to be. His "S" and his capital "G" have a lot of flair to them to.
I'm really happy with the quality on these too. The '81 Topps sometimes have this bleed effect, but not this card. Scott signs with a perfectly sized marker for his signature too. Any thicker and it would just look like mush. These are really clean and come off great on these cards.
Thanks Mr. McGregor! I'm giving these a 7.5!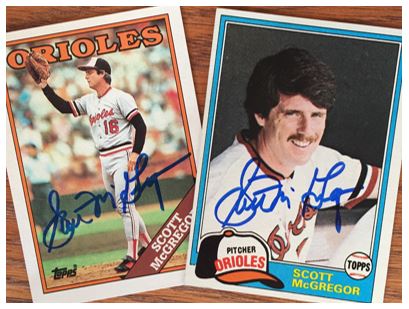 >>> READ MORE ABOUT MY AUTOGRAPH SCORING SYSTEM <<<
Thanks for visiting BravestarrCards.com: Card Collecting and TTM Autographs.