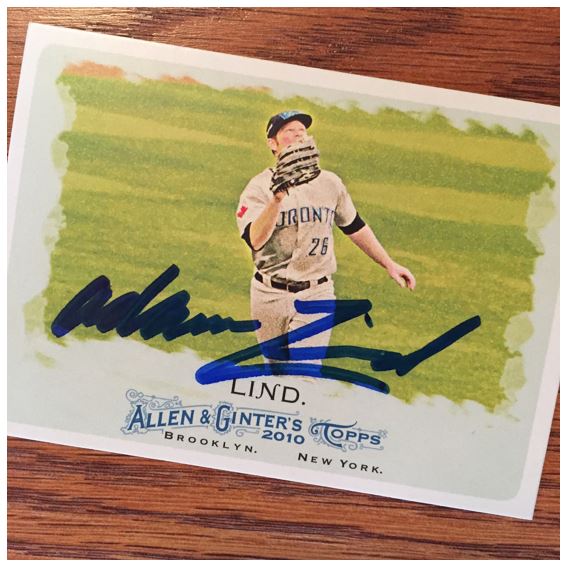 TTM Stats
Sent: 7/15/2017 | Received: 12/4/17 | 139 Days
'10 Topps Allen & Ginter ('08 Bowman Heritage returned unsigned)
Address: Washington Nationals
The Story of the Autograph
Adam Lind a major league baseball player who has played first base, left field and been a designated hitter for four teams: Toronto Blue Jays, Milwaukee Brewers, Seattle Mariners and Washington Nationals. He came into the league with the Blue Jays in 2006 and spent nine years in Toronto. Since then he's jumped around and changed teams each year.
Lind has had some pretty good seasons so far. His 162-game average is 24 homers, 87 RBI and a .272 average. His best year by far was 2009. That year he won a Silver Slugger award and finished up with 35 homers, 46 doubles, 114 RBI and a .305 average. All of those are tops for his career except for the average. Driving in six runs on Opening Day against the Tigers must have been a sign (a team record). He drove in 11 RBI in the first five games to break another Blue Jay record. He also hit the first grand slam of his career in August of that year. And then in September he had a three homer game against the Red Sox. To add to the Silver Slugger, he won the Edgar Martinez Award as most outstanding DH that year.
I got to see Adam play this year. He came off the bench and was a spot starter for the most part. But Adam seemed to be clutch when it was needed and always was coming up big in big spots. His first at bat this year he pinch hit for Stephen Strasburg and jacked a two-run dinger.
Wikipedia tells us his nickname is Adam Bomb. I haven't heard that used locally. Maybe it was more of a Toronto thing. But I will say with some of the homers I saw him hit this year, it should have been used more.
The Score on Adam Lind – 7.5


Adam has a really cool signature. I know that "L" looks like a "Z" but it really fits with the rest of how he signs. And I think this card is really great for a signature too. At first when I saw how thick the marker was, I was a little scared. But it really came off well on this one. It's very strong and clear unlike some other signatures I've seen with thick markers.
He only signed one of the cards. That's fine. And in reality, the other card wouldn't have come out well anyway. It showed mostly a black jersey on the card and the signature would have had trouble sticking out.
The other thing about Adam's return is that there were stickers on the back of the envelope. A little dog and a little cat sticker. It made me wonder if maybe Adam lets his kids help him out. If so, that's awesome. If not, and Adam just likes to use stickers, well, that's pretty cool too.
Thanks Mr. Lind! This one gets a 7.5!
>>> READ MORE ABOUT MY AUTOGRAPH SCORING SYSTEM <<<
Thanks for visiting BravestarrCards.com: Card Collecting and TTM Autographs.