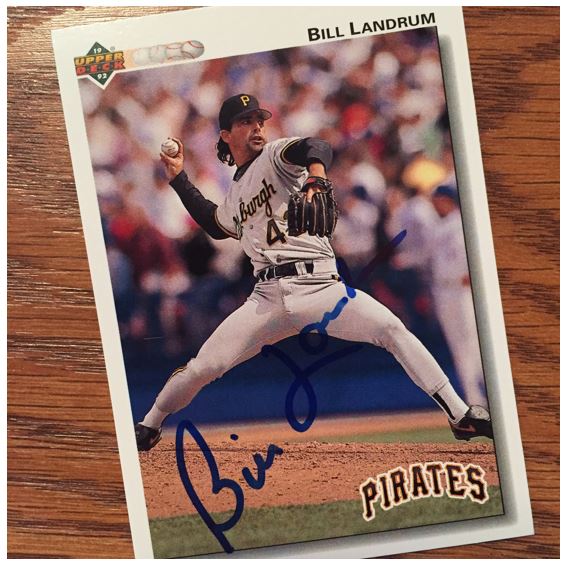 TTM Stats
Sent: 11/13/2017 | Received: 11/30/17 | 17 Days
'88 Topps, '90 Fleer, '90 Topps, '92 Upper Deck
Address: Home
The Story of the Autograph
Bill Landrum played eight seasons in the major leagues as a relief pitcher. He played with four teams: Reds (twice bookending his career), Cubs, Pirates, and Expos. Bill pitched for the Pirates in the early 90's when they had a lot of success. But he wasn't around for all of that success as he left for the Expos in 1992.
Landrum played as a relief pitcher, but not necessarily a closer his career. He did accumulate saves for the Pirates in the early 90's with two season in the top 10 (1989 and 1991). His best year was 1989 overall. That year he was 2-3 with a 1.67 ERA in 56 games (in addition to the 26 saves already mentioned).
Bill's father was a pitcher too. He pitched for 'dem Bums, the Brooklyn Dodgers, in the '50's.
The Score on Bill Landrum – 6.0


It's not often that I see my own name in a signature. Not that Bill isn't a somewhat common name, but I don't have very many guys with that name who signed for me. This is definitely not how I sign Bill, but I also don't use it that often for a signature.
Anyway, Mr. Landrum has a nice little signature. He made it a bit bigger on the card I used as the feature. That's my favorite on of the lot. All were signed with a good marker, but think some could have used the space a bit better. I like the how he signs the "B" and the "L". I feel likes is just a different direction from how I would sign it (like how my daughter starts her "s" from the bottom up).
Pretty solid signature! Thanks, Mr. Landrum – 6.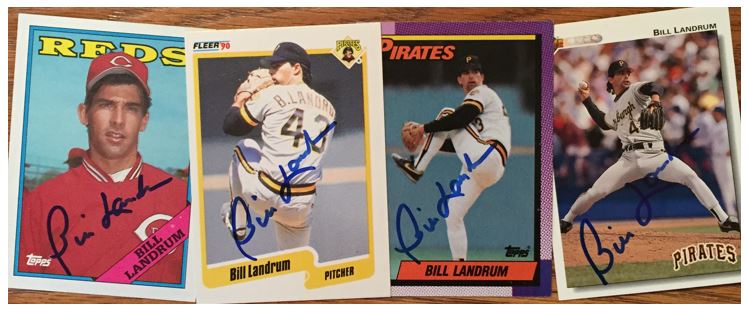 >>> READ MORE ABOUT MY AUTOGRAPH SCORING SYSTEM <<<
Thanks for visiting BravestarrCards.com: Card Collecting and TTM Autographs.