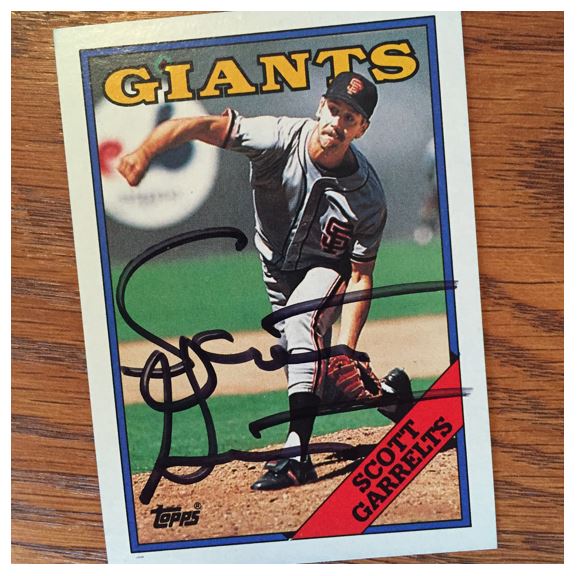 TTM Stats
Sent: 9/15/17 | Received: 10/7/17 | 22 Days
'88 Topps, '90 Fleer, '90 Topps (returned '89 Topps unsigned)
Address: Home
The Story of the Autograph
Scott Garrelts was a right-handed reliever who later switched to a starting pitcher. He played his whole career (1982-1991) with the San Francisco Giants and was an All-Star in 1985 and the NL ERA leader in 1989.
In the early to mid-80's the Giants pretty much hovered around the .500 mark. If they had a good season, they probably saw in the neighborhood of 85 wins. But when they had a bad season, like '84 and '85 their win totals were in the mid-to-lower 60's. When you're on a team like that you usually only get one All-Star. That's the rule, every team has to be represented by at least one player. And in 1985 that player was Scott Garrelts for the Giants. As a reliever in those days Garrelts was pretty much the teams closer. But in 1985, on what would be a 62 win team, Garrelts' nine wins actually led the teams in wins (he also led the team in Saves with 13). That year he was 9-6 with 13 Saves and a 2.30 ERA in 74 games (second most on the team). But the team would start to pick things up in the coming years.
Each year would build in wins and finishing spot in the NL West for the Giants (except for one year they were down a bit). Garrelts as the closer would be one of the Saves leaders on the team, but somehow also find ways to pick up a bunch of wins in those years. But after being a reliever for a while, the Giants switched him to a starting pitcher in their National League Pennant winning year of 1989. It was that year that might have been Garrelts' best year. He went 14-5 in 30 Games with a 2.28 ERA.
The following year Garrelts took a no-hitter into the ninth inning against the Cincinnati Reds. Unfortunately, Paul O'Neill broke it up with a two-out single. He didn't walk anyone until 12 batters in that day. Years later he is still a bit haunted by that hit. I think I would be too if I got that close. He also had two three-hitters that same year.
The Score on Scott Garrelts – 5.5


Scott has an interesting name for a signature. Usually the names with the same first and last initial can be interesting but in Scott's case it's having a name that ends (or had toward the end) in the same letter. Those "t's" at the and give him those straight parallel lines.
I think on this one it's a good example of a marker that is not quite fresh. You can see how the black isn't solid all the way through. Sometime that can be seen in the places that you sign quicker, like those parallel lines. But in this case I think you see it in other spots too. He does use up some good space on the cards though.
Thanks Mr. Garrelts, I'm giving these a 5.5.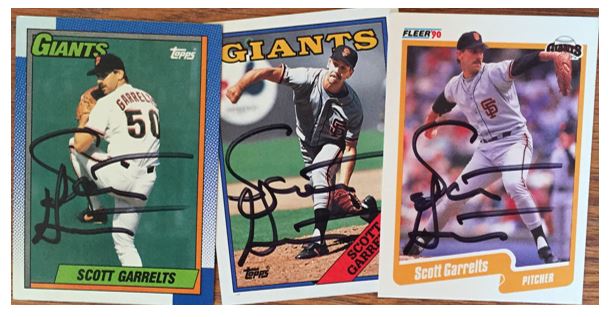 >>> READ MORE ABOUT MY AUTOGRAPH SCORING SYSTEM <<<
Thanks for visiting BravestarrCards.com: Card Collecting and TTM Autographs.