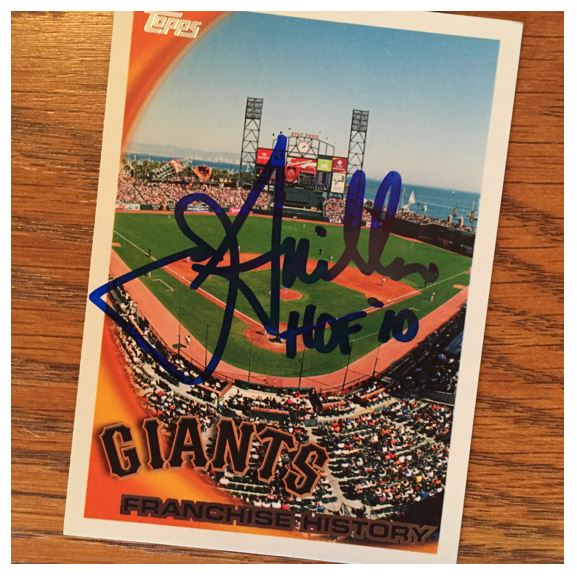 TTM Stats
Sent: 9/7/17 | Received: 10/7/17 | 30 Days
'10 Topps
Address: San Francisco Giants
The Story of the Autograph
Jon Miller is the play-by-play announcer for the San Francisco Giants and has been since 1997. He did play-by-play for ESPN broadcasts until 2010 which is probably where you might know him from if you aren't a Giants fan or in-and-around San Francisco. But besides the Giants, he's also work for the Athletics, Rangers, Red Sox, and Orioles. In 2010, Jon received the Ford C. Frick Award from the National Baseball Hall of Fame.
In some ways you could say Jon was born for this gig. In more general terms, Jon would play Strat-O-Matic baseball and record his own play-by-play and add crowd noise and commercials and all that. He went to school for broadcasting and worked his college's games. More specifically, his first game was in 1962 at Candlestick park and was a Giants win over the Dodgers.
He's done all types of sports over the years like hockey, basketball, and soccer. But baseball is Jon's game. And the Giant's are Jon's team. When Peter Angelos didn't renew his contract with the Orioles in 1996 he said he wanted someone who would "bleed more orange and black." Angelos didn't like Miller's honest commentary about the team. Well, Angelos couldn't have found someone who bled orange and black more, it's just the west coast version of those colors.
As far as some famous calls for Miller, here are a couple:
"Swing and there's a high drive, deep into left-center field, it's on its way… adios pelota! A grand slam for Buster Posey… 's good friend, Hunter Pence." – when he accidently called the home run for the wrong player.
"Three and two to Bonds. Everybody standing here at 24 Willie Mays Plaza. An armada of nautical craft gathered in McCovey Cove beyond the right field wall. Bonds one home run away from history. (crack of the bat) and he swings, and there's a long one into right center field, way back there, it's gone! A home run! Into the center field bleachers to the left of the 421 foot marker. An extraordinary shot to the deepest part of the yard! And Barry Bonds with 756 home runs, he has hit more home runs than anyone who has ever played the game!" – for Bonds' 756 Home Run.
I always like when Miller did the games on ESPN. He's kind of funny, maybe old man funny, but still funny. He sometimes uses some other languages and phrases and has some pretty good pronunciation of those. I learned that he actually does a lot of impersonations of other broadcasters as well.
The Score on John Miller – 8.0


I think I'm going to try to find more of these "team" cards and send them out to people associated with a team. I like the idea of a non-baseball (even though in this case Jon is baseball) person signing a baseball card.
Jon has a great signature, plus it is always great to see that "HOF" inscription on any card. What makes this even better, this might be (or close to) Jon's vantage point for most days in his Springs, Summer, and into Fall. That signature is really big and this card works great for this kind of thing.  I'm really glad that I sent this one out. Now to get my brain going on more autos like this.
Thanks Mr. Miller. This one gets the great 8!
>>> READ MORE ABOUT MY AUTOGRAPH SCORING SYSTEM <<<
Thanks for visiting BravestarrCards.com: Card Collecting and TTM Autographs.