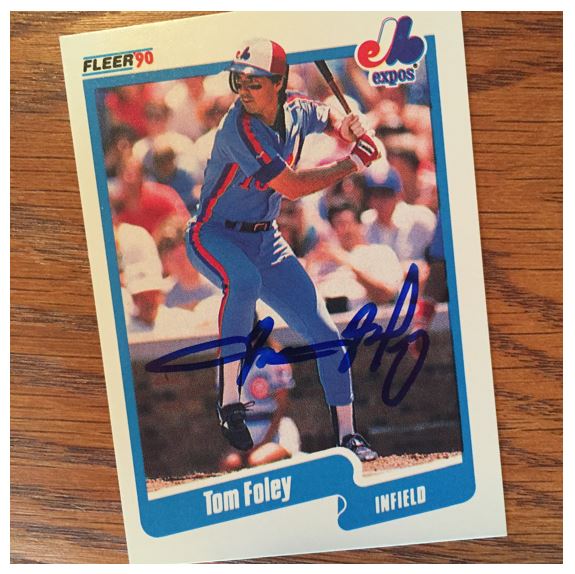 TTM Stats
Sent: 9/20/17 | Received: 10/7/17 | 17 Days
'88 Donruss, '88 Topps, '89 Donruss, '90 Fleer, '90 Topps
Address: Home
The Story of the Autograph
Tom Foley played the mostly the middle infield for the Reds, Phillies, Pirates and Expos from 1983 to 1994. Most of his career was spent in Montreal over two different stints. He was born in Georgia and was an Army brat who spent time growing up in France, Hawaii and Japan. He played right-handed, but was actually left-handed. When he was growing up he played right-handed because he used his father's right-handed glove.
He started with the Reds and was traded to the Phillies, who then ultimately traded him to the Expos. He was supposed to start for the Phillies but was hit by a pitch in Spring Training and ended up playing behind Steve Jeltz. That was really the start of Foley as a utility infielder. He would play all over the infield for the Expos but his playing diminished as his career went on in Montreal even though the number of positions increased. His career numbers are the best during the 1987-1989 seasons. None of the teams he played for ever reached the postseason.
Foley credits his longevity in baseball to his versatility, "I really wasn't a great player, but I was an average major league player who did the little things. I played all of the infield positions and did what I was supposed to do. They say there are glove guys, and I was a glove guy. I could catch the ball and throw the ball, and I tried to mix in as many hits as I could." He was a very good fielder according to metrics.
After Foley's career ended he immediately went into the coaching track. He started as a minor league field coordinator with the Rays in 1996. He then managed one of their minor league teams. In 2002 Foley started coaching for the Rays (they were actually the Devil Rays when he started coaching there). He's actually stayed through four different managers (McRae, Piniella, Maddon and Cash).
The Score on Tom Foley – 6.0


Tom has a pretty cool signature. It looks really good on the card, but I think it would be even better on a baseball. He's got one of those signatures that you kind of can make out the name, but no exactly. For instance, that "T" has an odd part that juts out to the left. It also looks like there is a "c" in the middle of this name.
These look pretty sharp though. I'd say that I need to find some more exciting cards for him, but really I don't think those necessarily exist for the time he played. That powder-blue color in the Expos uniform seems to be coming back though. Maybe we can just go with the retro idea.
Thanks Mr. Foley… 6.

>>> READ MORE ABOUT MY AUTOGRAPH SCORING SYSTEM <<<
Thanks for visiting BravestarrCards.com: Card Collecting and TTM Autographs.