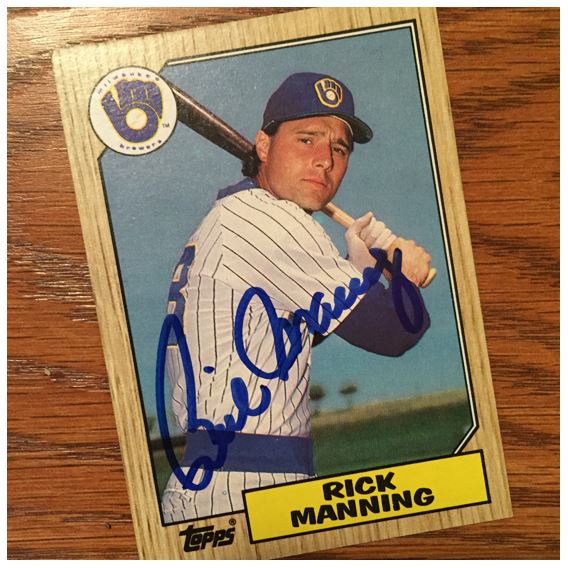 TTM Stats
Sent: 9/29/17 | Received: 10/16/17 | 17 Days
'81 Topps, '82 Donruss, '84 Topps, '86 Topps, '87 Topps
Address: Home
The Story of the Autograph
Rick Manning played for as a center fielder for the Indians and Brewers from 1975 through 1987. His career highlights include being the second overall selection in the 1972 draft, winning the AL Gold Glove in 1976, catching the final out of Len Barker's perfect game, and helping to end Paul Molitor's hit streak at 39.
I kid a little about the last one, but while playing for the Brewers in 1987, Paul Molitor had a 39-game hit streak and was currently 0-for-4 in a game against the Indians (Manning's former team. The game went to the tenth scoreless. Manning comes up to the plate and drives in the winning run with a single. The only problem for Brewers fans… Molitor was on deck. That game-winning single cost Molitor a chance to reach a 40-game hit streak.
The other thing that Manning is known for during his playing days was for an off-the-field issue with a teammates wife. He had a romantic involvement with Dennis Eckersley's wife at the time. They would actually eventually marry and then divorce. While there were other reasons given, both "official" and "unofficial," this could have been a major reason for Cleveland trading Eckersley to Boston in 1978.
These days Rick is the color commentator for the Indians as he has been since 1990, the longest tenure of any television announcer in team history.
The Score on Rick Manning – 6.5


I'm going to come right out and say that I think I started nitpicking this one a bit with the score. I think Rick has a really solid signature. Most times I give it a score right as I open the envelope so that I can give my first impressions. I originally said 5.5 and I bumped that up by the time I wrote this.
I think everything about Rick's signature is pretty good. The '87 Topps is the best example of it. On the others there's some inconsistency with the "R" maybe. I kind of want to say it might have to do with where it falls on the card. And that '81 Topps didn't take the signature as some of the others did. But I love the little loop on the "M."
Thanks Mr. Manning. Great Job – 6.5!

>>> READ MORE ABOUT MY AUTOGRAPH SCORING SYSTEM <<<
Thanks for visiting BravestarrCards.com: Card Collecting and TTM Autographs.