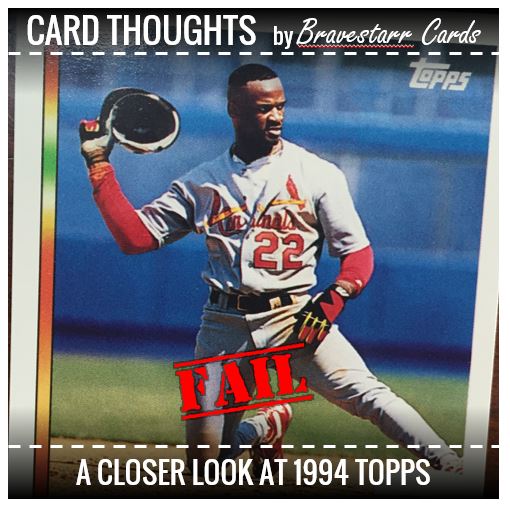 In 1994, Topps really started bitin' on Upper Deck's style. Sure, in previous years that made attempts to update the card and picture quality. And in 1993 they even added a player picture to the back of the card. But in 1994 they added a full picture on the back of the card. But as you find in Upper Deck cards of the time, double pictures mean double the oddities. This is the second of a four-part series looking at the results of a $5 retail box from a flea market.
_______________________________________________________________________
The second installment of our look at 1994 Topps is all about failure. With more pictures going on the cards we were bound to see some failures. It's pretty much a failure sport when your most successful hitters fail 70% of the time. But most pictures are focused on success, or what seems like success (if it's not just a portrait or candid shot).
#1 – Out at Second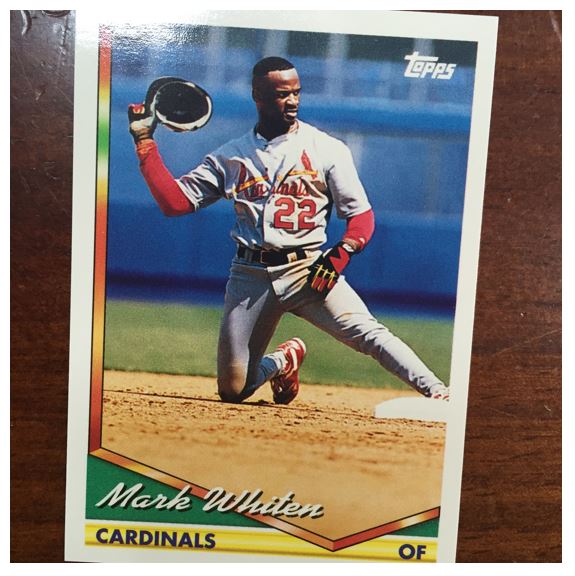 "Hard Hittin'" Mark Whiten did some good things in baseball. He played for 8 different teams (2 stints with the Indians), mostly for no more than 2 years at a time. He had a great arm in the outfield and actually was 5th in the NL in outfield assists in 1993. And on September 7, 1993 against the Reds he hit four home runs and drove in 12 (tying the all-time record in both categories). He's one of only 17 players in the major leagues to hit as many in one game and is one of two players with 12 RBI in a game. That same year he belted a 464-foot home run in Three Rivers Stadium and was the first to reach the RF overhang.
So with all that happening to that point in the year prior, Topps instead decides to put a picture on Whiten's card where he is making the last out at second base. You can tell it's the last out because he's throwing off of his helmet. Whiten had a good year in '93, but his '94 card doesn't suggest he did.
#2 – Hit By Pitch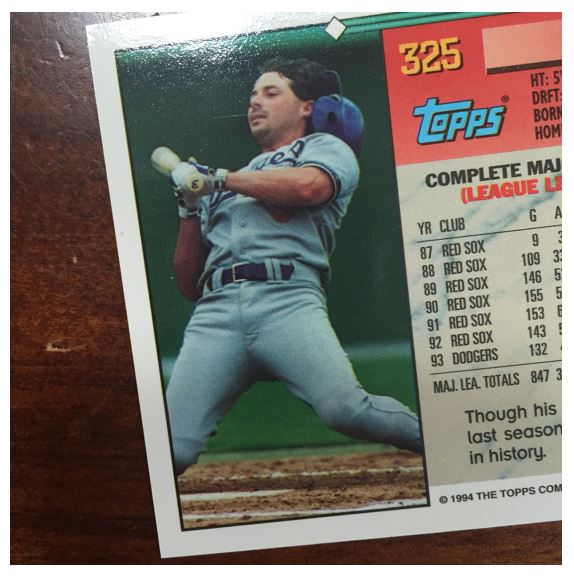 When I was playing ball as a kid could you guess what I didn't want to happen most. OK, besides the ball actually being hit to me in the field… getting hit by a pitch. Now this isn't a failure of the player in the picture, but it sure ain't his best moment.
Jody Reed played 132 games in 1993 with 504 plate appearances, we can't find one good picture where he isn't almost getting hit?
Now the interesting thing is, if he was getting hit, he only had 1 HBP that year. So if this was the one, would that make it more special?
#3 – Swing and a Miss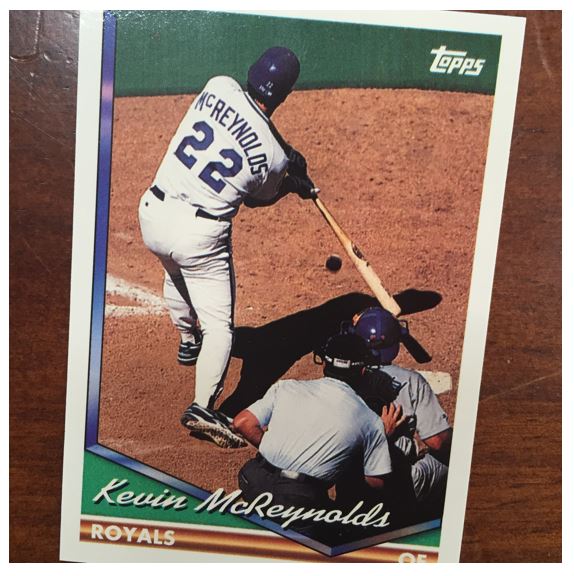 Kevin McReynolds is not a bad guy. Do we really have to show a swing and a miss for his card? I don't know what he did to the photographer to deserve it.
This is a pretty cool angle and different for a card, but why show a guy's back? I wonder if they were trying to sneak it this camera angle over at Topps.
#4 – Dropped Foul Pop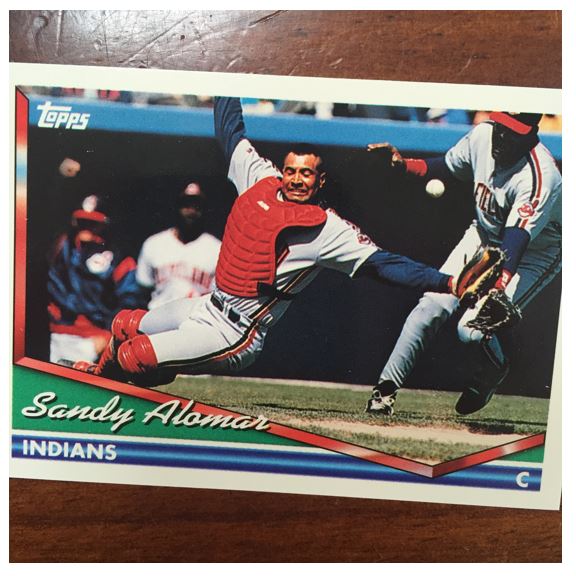 This is almost a 2-for-1, but since it's Sandy's card it counts for him. And really it looks like he is getting the worst of this. That face is pure agony. He's not even looking at the ball, probably because he expects to get hit or land hard. I don't think you catch many with your eyes closed. And whoever is backing him up isn't making that play either. Fails all around.
About 1994 Topps Baseball Cards
1994 Topps was a 792-card set that was issued in two series (each made up of 396 cards). Back in the day you could get a 10-card Wax Pack for $0.79 or a Jumbo Pack with 29 cards in it for $1.99. They also made Rack Packs with 33 cards per pack, but I couldn't find the original price on those. There was a gold parallel that you got at just about 1 per Wax Pack. And lastly they made a Black Gold (44 cards, 1:72) and a 1994 Finest Pre-Production (40 cards, 1:36) insert as well.
The players to highlight for the set (and how the cards are labeled) were:
Future Stars: Manny Ramirez, Cliff Floyd, Garrett Anderson, Javy Lopez, Pokey Reese
Prospects: Derek Jeter, Shawn Green, Jason Giambi, Carlos Delgado, Jason Kendall
Draft Picks: Billy Wagner
Coming Attractions: Chipper Jones/Ryan Klesko, Raul Mondesi
Overall not a lot of key cards and no significant rookies (the Jeter card is labeled as a "Prospect" and I think his Draft Pick card from the year prior is really what most people go after).