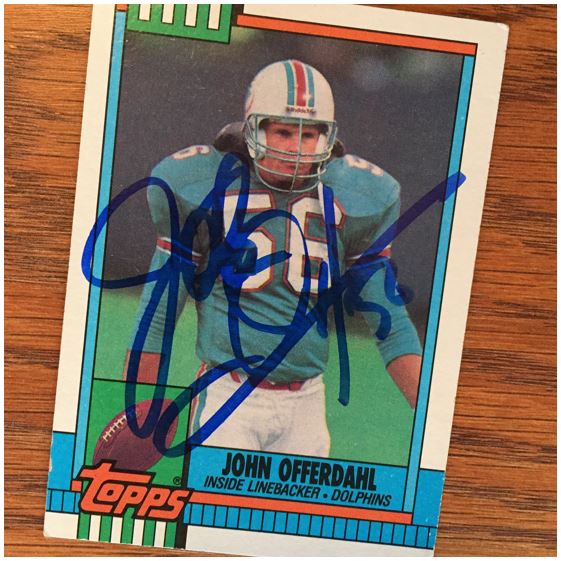 TTM Stats
Sent: 1/9/2018 | Received: 1/20/18 | 11 Days
'90 Topps (did not return '90 Fleer and '93 Topps cards)
Address: Home
The Story of the Autograph
John Offerdahl played linebacker in the NFL and he played his entire career for the Miami Dolphins. After growing up in Wisconsin, and attending school at Western Michigan, John was drafted in the second round by the Dolphins with the 52nd overall pick. A great Senior Bowl performance increased his stick prior to the Draft (he was the Defensive MVP).
And selecting him so high paid off for the Dolphins. He started great right from the jump after a great training camp when he had twice as many tackles as his teammates though the first three preseason games. And the Dolphins were starving for some defense after being ranked 23rd the year before. Offerdahl would end his rookie year with 130 tackles, two sack and an interception. That was good enough to get him to the Pro Bowl.
John would make the Pro Bowl for the first five years of his career (1986-1990). He would be selected as an All-Pro twice during that time too. His 1990 season might have been his best, leading the team in tackles again and adding a sack and an interception. But after that year Offerdahl was limited by injuries and never played much more than half a season.
While he was still playing football John because a bit of a restauranteur. He opened Offerdahl's Bagel Gourmet which grow to 10 locations and eventually combine with three other companies to become Einstein Bros. Bagels, a national chain. He would later open Offerdahl's Café Grill. They were a chain of casual restaurants. Now the restaurants are called Offerdahl's Off the Grill.
The Score on John Offerdahl – 6.0


This is my first time sending to John. I'll have to remember for the next time that he only sends one. I don't remember looking at that when I did my research so that's my bad. The best thing about John's signature is the size. He really uses a ton of the card. The other thing I like is the flair. I love the way he crosses the "fs" in his last name. Of the cards I sent, I wish I sent something that might have gone a bit better with the blue marker, but this came out pretty good considering the Dolphins colors don't go with much.
Thanks Mr. Offerdahl. I'm giving this one a 6.
>>> READ MORE ABOUT MY AUTOGRAPH SCORING SYSTEM <<<
Thanks for visiting BravestarrCards.com: Card Collecting and TTM Autographs.
Information gathered using Wikipedia and Pro Football Reference.