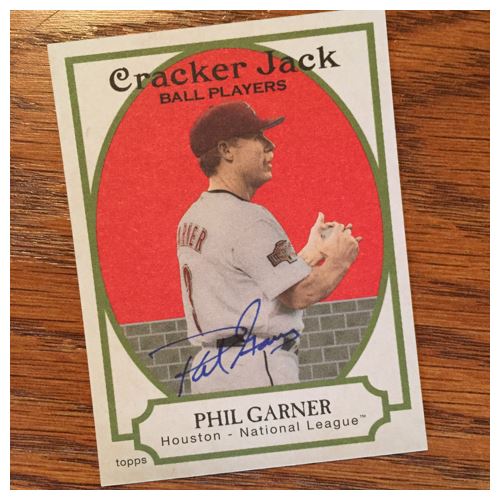 TTM Stats
Sent: 9/14/17 | Received: 9/25/17 | 11 Days
'83 Topps, '88 Topps, '92 Topps, '05 Cracker Jack, '07 Topps
Address: Home
The Story of the Autograph
Mr. Garner played from 1973 through 1988 with five different teams and also managed for 15 years with three different teams. He made the All-Star team three times and won a World Series with the Pirates in 1979.
Phil might have one of the better nicknames of all time, "Scrap-Iron." This was due to his gritty style of play. He could definitely hit some and he could also steal some bases. 1976 might have been one of his better years with 8 homers, 74 RBIs and what would be a career high of 35 stolen bases. But he would have some great years in Pittsburgh too. 1977 stands out with 17 homers, 77 RBIs, 32 stolen bases, 35 doubles and scoring 99 runs. With the Pirates in the postseason in 1979 he hit .417 in the NLCS and .500 in the World Series.
As a manager he started with the Brewers and then went on to the Tigers. But it was with the Astros that he had the most success and helped lead them to the 2005 World Series (the franchise's first ever). Maybe in his most exciting managerial moment, he was in a fist fight during a bench-clearing brawl against the White Sox in 1995. He and White Sox manager Terry Bevington went at it. They were both suspended four games for that mess.
On a more personal note, Phil was the started third baseman in one of my favorite games ever. He went 1-for-3 against the Mets in the Astros 16-inning loss and was replaced by a pinch hitter.
The Score on Phil Garner – 5.5


I really like Phil's signature. I think the card I featured is the best. It took the signature the best and it really showed it off the best of any of the cards. I also used that one as the feature because it matches the reason I rated all these a little low. It's mini! So I showed it on a mini.
Not only is it a small signature, but he used a thin pen, so it really doesn't take so well. The business of the cards really eats into what you can read of it too. Again, he has a beautiful signature, it's just tiny. But I will say that seeing this on a ball would be great!
5.5 for this tiny, but pretty signature. Thanks Mr. Garner!

>>> READ MORE ABOUT MY AUTOGRAPH SCORING SYSTEM <<<
Thanks for visiting BravestarrCards.com: Card Collecting and TTM Autographs.