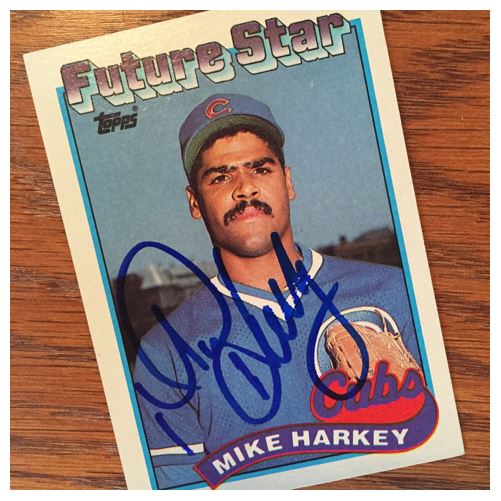 TTM Stats
Sent: 9/7/17 | Received: 9/22/17 | 15 Days
'89 Topps, '90 Fleer, '90 Upper Deck
Address: New York Yankees
The Story of the Autograph
Mike Harkey played in the big leagues for five different teams starting with the Chicago Cubs in 1988. He was with the Cubs through 1993 and then played for the Rockies, A's, Angels and Dodgers. After player he's been a pitching coach and is currently in his second stint in that role with the Yankees as a bullpen coach.
With the Cubs in 1990 e had a 12-6 record and sported a 3.26 ERA after he was originally a first round draft pick in 1997. However, he experienced a lot of shoulder and arm injuries that definitely impact his early career with the Cubs. In 1992 he tried to cartwheel while warming up on the Wrigley Field outfield and severely damaged his knee.
On of Harkey's sons is Cory Harkey who played Tight End with the Rams.
The Score on Mike Harkey – 6.0


I like Mr. Harkey signature. I really like the way it looks like his "H" is a vertical line and then he seems to make an X to complete it. It's funny that he kind of has a little different signature in each one. I think it mostly happens with the loop in the "y". He uses a nice marker and signs in a good size. I used the best card in the featured image but really that is also the one with a little bleeding on the card. That was the only one like that though.
Overall I think it's above average and I'll give it a 6. Thanks Mr. Harkey!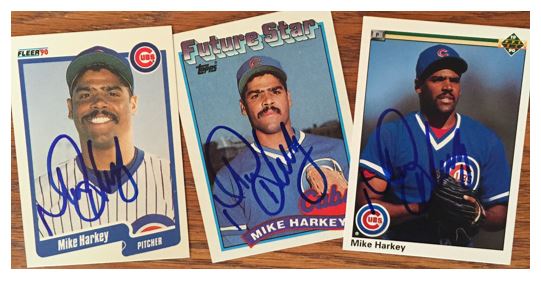 >>> READ MORE ABOUT MY AUTOGRAPH SCORING SYSTEM <<<
Thanks for visiting BravestarrCards.com: Card Collecting and TTM Autographs.