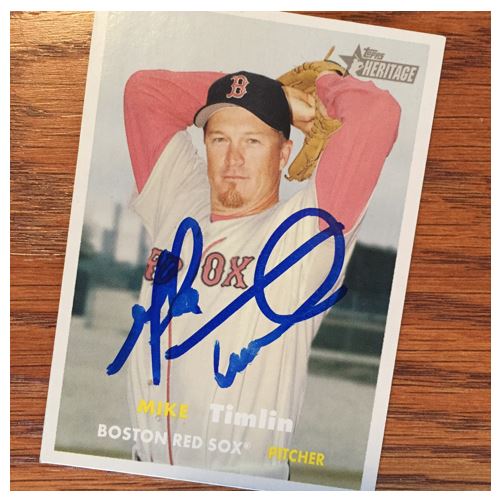 TTM Stats
Sent: 9/15/17 | Received: 9/25/17 | 10 Days
'92 Donruss, '94 Score, '06 Bowman Heritage ('92 Upper Deck and '93 Fleer were not returned)
Address: Home
The Story of the Autograph
Mke Timlin played for six teams over his 18-year career. His most significant time with any team was 6+ years with the Torono Blue Jays to start his career and the 6 years he spent with the Boston Red Sox to end his career. Because of his time with those two team he was part of four World Series championships rosters (1992, 1993, 2004 and 2007). Actually, his first appearance for the Toronto Blue Jays on opening day of 1991 was against the Red Sox.
He was a pretty good relief pitcher throughout his whole career with some really great moments in big spots – like the postseason appearances with the Red Sox. I wouldn't say he was ever the best reliever on a staff, but he always made a staff strong.
But Timlin doesn't just have on the field accomplishments. He and his family support ALS fundraisers and they organize "The Sharon Timlin Memorial 5K Race to Cure ALS" and they've been doing it since 1994. His mother dies of ALS in March 2002. In 2007 he was the winner of the Lou Gehrig Memorial Award for the player who has made exemplary contributions to "both his community and philanthropy."
While I can't claim to know Mike, he seems like a really good guy.
The Score on Mike Timlin – 6.0


I was really excited to get this one back. I wasn't sure how long it was going to take and in the end it was one of the fast returns I've gotten (10 days). He's got a pretty good signature. Good size and its pretty clean. I really like his "T" and the loop of his "l". Overall I like how he signs. I gave the card I featured a 6. That's because that signature didn't come out as well as the others and there was a little bleed on the card. That kind of surprised me because if you normally read the posts, I love signatures on Heritage cards. I featured that card because that was the one I really wanted signed. I'm very happy about that one no matter how it came out.
Something to note is that he did keep two cards. That's not a problem for the score and I don't take off for that, but it's something to note if you sending to him. But signing three is very fair (Heck, signing one and taking four should be completely fair really).
Again, 6 for the card I featured, but the others I think would be more like 7's. Thanks Mr. Timlin!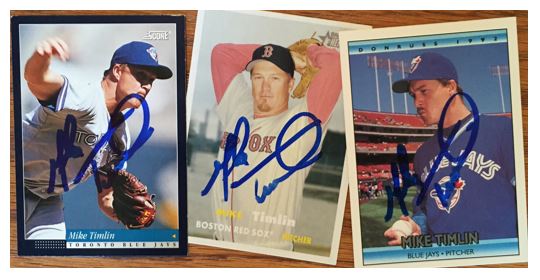 >>> READ MORE ABOUT MY AUTOGRAPH SCORING SYSTEM <<<
Thanks for visiting BravestarrCards.com: Card Collecting and TTM Autographs.