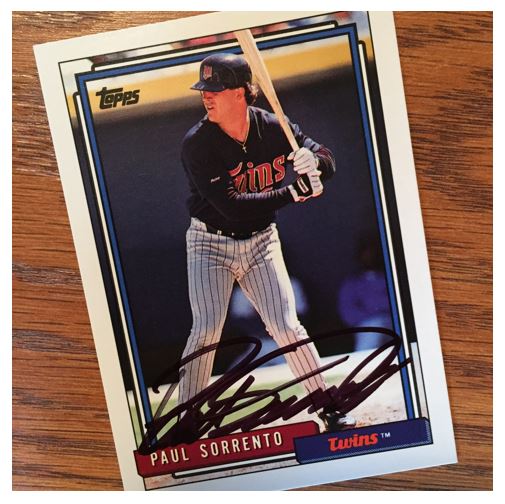 TTM Stats
Sent: 7/29/17 | Received: 9/18/17 | 49 Days
'90 Donruss, 92 Studio, '92 Topps, '93 Leaf, '98 Pacific
Address: Los Angeles Angels
The Story of the Autograph
Paul Sorrento played for the Twins, Indians, Mariners and Devil Rays (yes, the Devil Rays and not just the Rays). He played first base. He was lucky enough to play in two different World Series. The first was in 1991 with the Twins where he was part of the winning side and the second was in 1995 with the Indians. 1996-7 with the Mariners were his best seasons where he hit for pretty good average 23+ homers and 80+ RBI.  Paul is currently the hitting coach with the Los Angeles Angels.
Paul actually has a few firsts: he was the first DH in Tampa Bay history, he got the first base hit in Camden Yards, he hit the first home run in Camden Yards, and he hit the first Grand Slam in Jacobs Field.
The Score on Paul Sorrento – 4.5


I think if I used one word to described Paul's signature it would be condensed. If I had two, the second would be scratchy. Its definitely difficult to read but that doesn't mean its bad. That said, its not my bag baby. I see some good capital letters in there but the scratchiness really covers up the "S" especially. But it is a good size and it is pretty clean (except for that 1993 Leaf). A lot of these cards are hard for an autograph to look good though. A little too much dark background or uniform in some of these. For those reasons, I think this is worth a 4.5.
Something I really like about these cards though… they all seem to have something basebally or 90's in them. First, that 1990 Donruss has Paul really rocking that tobacco wad – classic (but disgusting). Second, the 1993 Leaf has a great tight uni with a gold chain. The 1992 Donruss is the most standard out of the five. The Studio card shows an amazing hair cut and look on Sorrento's face. And lastly, that '98 Pacific is VERY 90's with the "online", the "devil rays" uni and just those awesome colors. I feel like Color Me Bad is going to be on the back of the card.

>>> READ MORE ABOUT MY AUTOGRAPH SCORING SYSTEM <<<
Thanks for visiting BravestarrCards.com: Card Collecting and TTM Autographs.