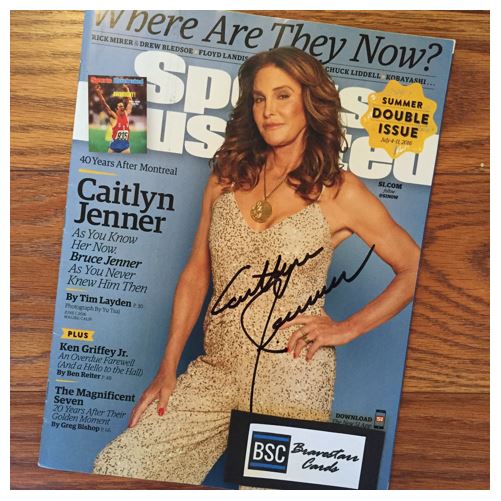 TTM Stats
Sent: 7/7/17 | Received: 9/15/17 | 68 Days
Sports Illustrated 7/4/16
Address: Home
The Story of the Autograph
With all of the TV shows and interviews and press and EVERYTHING in the last several years, there's really not much to say that hasn't been said. Caitlyn Jenner has to be the highest profile person (let alone athlete) to come out as a trans woman.
Prior to gender reassignment, back in the 1970's, Bruce Jenner was a very successful athlete. It was a bit before my time, but the legend of Bruce Jenner the decathlon god really stuck around into the 1980's when he was on TV and doing all sorts of stuff. I think the most classic for any athlete was the cover of the Wheaties boxes. I would say for my generation, I think I new about the Wheaties covers because of him and maybe Mary Lou Retton.
There are some things I didn't know about Caitlyn before writing this. I didn't realize that Jenner was a race car driver. In the 80's Jenner was part of the IMSA Camel GT Series and raced with co-driver Scott Pruett. He once commented, "I was a lot more badass runner than I was a driver."
Apparently, Jenner was considered for the role of Superman. George Wallach was his agent and really tried to help him capitalize on all of his Olympic fame. There were so many offers coming in they couldn't keep up with it. Jenner was the spokesperson for so many things. I think other than some time in the 90's when I don't feel like Jenner was part of the major celebrity scene, that might be the only time that I don't remember seeing the Jenner name.
***NOTE: I really had to think about what pronouns I was using throughout this. I actually tried to use a last name to get around it. Ultimately I thought that "he" was OK before transition and "she" was better after. That said, from the trans folks I have met and heard talk, it can be very personal as to what you want to be considered as. While I'd like to get it all right, I don't know that I have. But I definitely don't mean to offend anyone. I think we're all learning and as long as you are willing to learn, I think that's good.***
The Score on Caitlyn Jenner – 7.5


This is a really clean and crisp autograph from Caitlyn Jenner. You can really tell she's been signing for years (especially the last name). That "J" is great. This magazine really worked great for a signature in the end. The background is light and there's plenty of space for a nice and big signature. This one rates as one of the higher recent signatures I've gotten.
Thanks Caitlyn. I'm giving this one a 7.5!
>>> READ MORE ABOUT MY AUTOGRAPH SCORING SYSTEM <<<
Thanks for visiting BravestarrCards.com: Card Collecting and TTM Autographs.