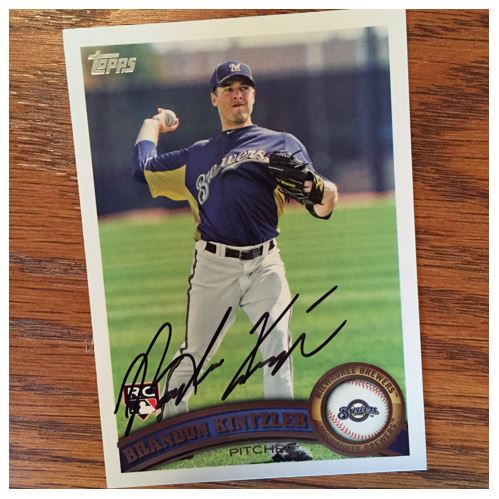 TTM Stats
Sent: 9/1/17 | Received: 9/18/17 | 17 Days
'11 Topps
Address: Washington Nationals
The Story of the Autograph
Brandon Kintzler started his career with the Milwaukee Brewers in 2010. He played in Milwaukee for six years. During that time he went from a setup man in 2013 (for closer Jim Henderson), to losing his setup role after an injury the next year, then again having an injury in 2015 and only appearing in seven games. So there was promise, but injury kept getting in the way. In 2016 Kintzler signed with the Twins. He snagged the closer role out from two other guys that year when they were ineffective.
This year Kintzler was having a pretty good season as the closer recording 24 saves and a 2.29 ERA and making the All-Star team for the first time. Because of his success, and the Washington Nationals bullpen issues, Kintzler was traded to Washington in a deadline deal to become part of the new Nationals bullpen with Sean Doolittle and Ryan Madson. So far, so good for those guys in Washington. Now, Kintzler has a ticket to the postseason and we'll see if he can help change the Nats fortunes.
The Score on Brandon Kintzler – 4.5


This one is another in the line of chicken scratch ttm autographs that I have. I feel like its very much like Sparky Anderson's (aside from it not changing direction like Sparky's). Brandon used a little bit thinner marker which is not my favorite. But its a clean marker and it comes out strong for its size. I think the auto could be bigger on the card, but overall its OK. Its right in my middle ground at 4.5.
>>> READ MORE ABOUT MY AUTOGRAPH SCORING SYSTEM <<<
Thanks for visiting BravestarrCards.com: Card Collecting and TTM Autographs.