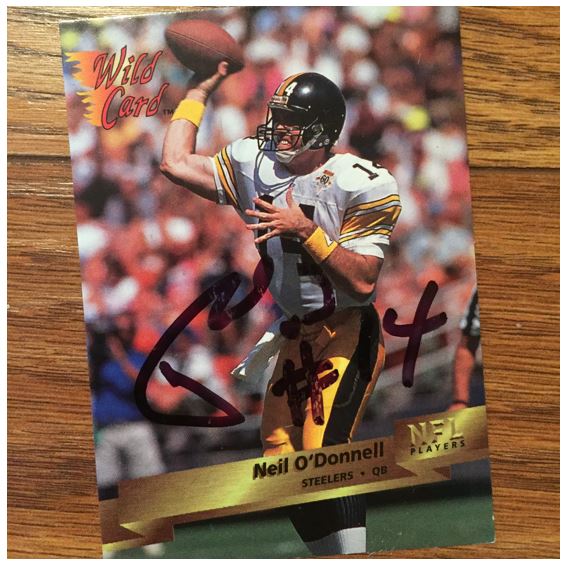 TTM Stats
Sent: 12/7/2017 | Received: 12/15/17 | 8 Days
'93 Wild Card, '98 Upper Deck Choice
Address: Home
The Story of the Autograph
Neil O'Donnell played quarterback for the Steelers, Jets, Bengals and Titans over his 14-year career in the NFL. He had a great high school career in New Jersey and went to Maryland where he never really led the team to a great record. Still he was drafted by the Steelers in 1990 with the 70th overall pick. He would eventually lead them to a Super Bowl in 1995 that they would lose to the Dallas Cowboys.
I actually got to watch Neil play high school football at Madison High school in Morristown, NJ in the mid-80's. My Mom went to Madison as a kid and my Grandmother lived across the street from the school. So when we went there for Thanksgiving we usually got to catch a game while we were in town. Neil and all of his brothers played at Madison and they had some pretty good seasons (including some state championships). But when Neil was playing they didn't win that many games. Bobby Ross was coaching for Maryland at the time and recruited Neil.
But Ross left Maryland in 1986 and O'Donnell re-shirted that year. He played three season under Joe Krivak but they never really had a good season. If Maryland has a bug-a-boo opponent it would be Penn State. Of course they are usually way better than Maryland, but Maryland tied them in 1989 and it marked only the second time they would not lose to them in the series.
Neil's best year were in Pittsburgh and he did help them to the Super Bowl. But after that he had some bad years with the Jets, after signing a big contract, the Bengals. He had some good years with the Titans as Steve McNair's backup though.
O'Donnell's best stat is that he has one of the lowest interception percentages in NFL history. He threw just 2.11 interceptions for every 100 pass attempts. The fact that he threw two costly ones in the Super Bowl kind of makes you forget that though, especially if you are a Steeler fan.
The Score on Neil O'Donnell – 2.0


I'm sorry I just don't get it. And that's my biggest problem with this,… I don't get it. I have no idea what Neil is signing other than the number. I can't make sense of first name or last name or if this is some kind of symbol like it was Prince or something. Add that to the fact that both of these have issues with the marker coming off. I'm actually surprised that they didn't rub off onto each other because they came facing each other. I have no idea if Neil signs like this consistently or what.
Thanks Mr. O'Donnell, but I'm just not feeling these. I'm giving them a 2.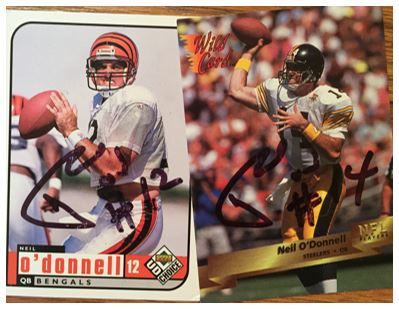 >>> READ MORE ABOUT MY AUTOGRAPH SCORING SYSTEM <<<
Thanks for visiting BravestarrCards.com: Card Collecting and TTM Autographs.