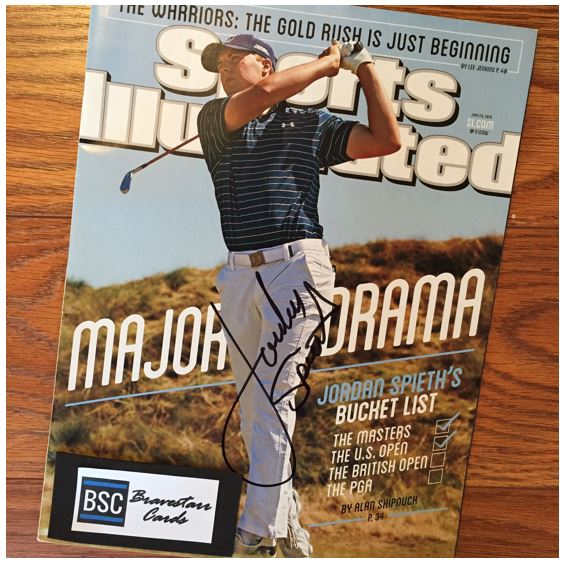 TTM Stats
Sent: 5/27/2017 | Received: 12/16/17 | 199 Days
Sports Illustrated 6/29/2015
Address: Lagardere Sports
The Story of the Autograph
Jordan Spieth is a golfer on the PGA Tour. He's won three majors (Masters, US Open, British Open) and finished second in the fourth (PGA Championship). He was the PGA Rookie of the Year in 2013 and PGA/PGA Tour Player of the Year in 2015 when he also was the FedEx Cup Champion. In April of 2016 he was also named to Time magazine's list of the "100 Most Influential People."
Spieth was born in Dallas, TX and went to a Catholc and Prep School in that area. In 2009 and 2011 he won the US Junior Amateur and became the tournaments second two-time winner (with Tiger Woods). Any time you get mentioned in the same sentence as Tiger Woods (well, at least for Amateur accomplishments) you are probably going to be on you way to some success. He had a lot of great accomplishments and awards as a Junior/Amateur.
He attended the University of Texas and was a member of the 2011 Walker Cup team. As a freshman he won three events and lead the team in scoring average. He helped his team win the NCAA Championship and was named to the All-Big 12 Team, the Big 12 Freshman of the Year and was a first team All-American.
For now I'm going to leave his story there. I'm hoping to continue it if I can get him to sign a second Sports Illustrated he's appeared on. Maybe that will be this time again next year….
The Score on Jordan Spieth – 8.0


Jordan has a great signature. If there was anything that I knocked a little off for is was the angle. But I think I could give him the benefit of the doubt and say that he was trying to sign over the light pants so you can see the signature best. This is another great example of signing big for the item. You have a whole cover to work with so don't make it the size of what you would put on a card. Great Job!
Something to note about his policy is that it looks like he does one a year. I'm not sure how he keeps track of it, but it's something to note. I am definitely waiting to send another SI I have. It looks like maybe he gets a friend/agent to help out with this stuff and maybe he just does it once a year.
Thanks Mr. Spieth, I'm giving this one an 8!
>>> READ MORE ABOUT MY AUTOGRAPH SCORING SYSTEM <<<
Thanks for visiting BravestarrCards.com: Card Collecting and TTM Autographs.