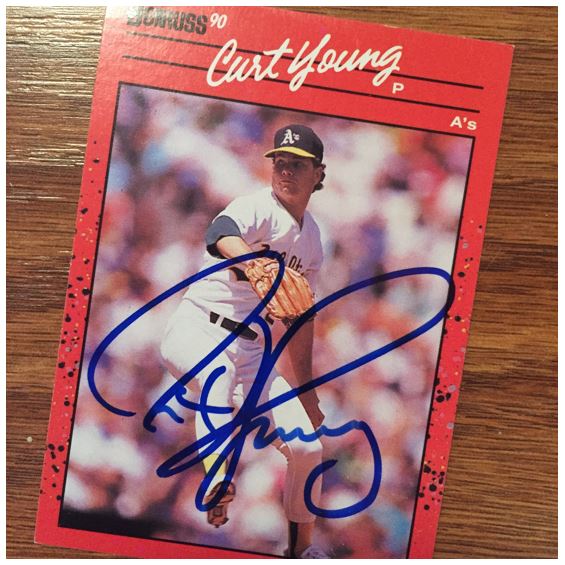 TTM Stats
Sent: 8/19/2017 | Received: 12/15/17 | 116 Days
'90 Donruss, '90 Topps, '91 Donruss, '91 Score, '92 Topps
Address: Oakland Athletics
The Story of the Autograph
Curt Young played most of his 11-year career for the Oakland Athletics (1983-1991, 1993). He also spent 1992 with both the Royals and Yankees. Since 2004 he's coached in the major with the Athletics (twice), the Red Sox, and next year he'll be with the San Francisco Giants.
Young was draft by the Athletics in 1981. After two years in the minors he joined the big club, in 1983. In 1987 he was their Opening Day starter. While with the Athletics he played in both the 1988 and 1990 World Series. In 1986 and 1987 he pitched one-hitters.
He played as both a reliever and a starter. The beginning and end of his career were mostly in a relief capacity but he did receive some starts. The majority of his starts came between 1987 and 1990 when he won as many as 13 games twice. He tended to have a high ERA as evidenced by his career 4.31 ERA.
The Score on Curt Young – 7.0


This my be my definition for a great size autograph. Curt really uses the whole card. He's got a swooping autograph that really fills it up. Some of these are a little inconsistent, especially with regard to how the first name comes out. If you look at the 1990 Topps card the middle of his first name is really an awkward line. The '91 Donruss and the '92 Topps really came out the best. These are really great quality though.
Thanks Mr. Young. These are great and I'm giving them a 7.

>>> READ MORE ABOUT MY AUTOGRAPH SCORING SYSTEM <<<
Thanks for visiting BravestarrCards.com: Card Collecting and TTM Autographs.