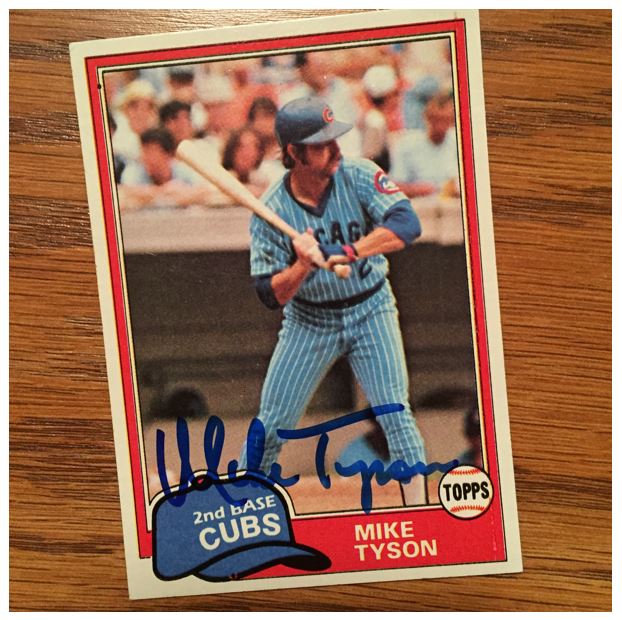 TTM Stats
Sent: 8/4/17 | Received: 8/14/17 | 10 Days
'80 Topps, '81 Fleer, '81 Topps
Address: Home
The Story of the Autograph
Mike Tyson (no not "Iron" Mike Tyson) played for the St. Louis Cardinals from '72-'79 and the Chicago Cubs in '80-'81. He played the middle infield and was mostly known for his defense. He was not a prolific offensive player by any means and maybe has his best season in 1976 when he only played half the season due to an injury. He was consistently in the Cardinals lineup though until 1979 when he was traded to the Cubs for Donnie Moore
The Score on Mike Tyson – 7.5


I know his signature seems simple, but I think that's what I like about it. Of what I got back, the '81 Topps card was by far the best. The Fleer card is smeared and the '80 Topps card is good, but it's not my favorite to have an autograph over a card with an autograph on it. I just didn't have much of a selection to send him. I really like his "M". He placed the signature well and it's a good size. And the blue on that '81 Topps card looks pretty good.
A surprising score I think, but I like it.  7.5 it is.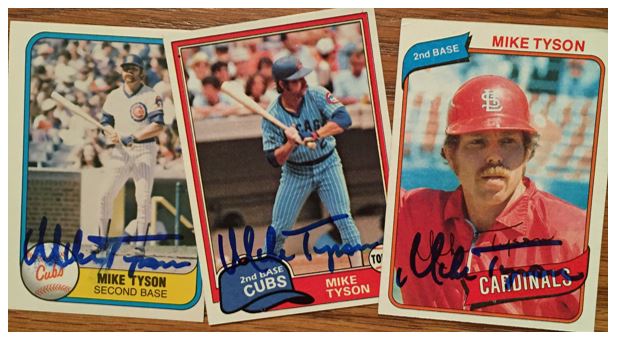 >>> READ MORE ABOUT MY AUTOGRAPH SCORING SYSTEM <<<
Thanks for visiting BravestarrCards.com: Card Collecting and TTM Autographs.