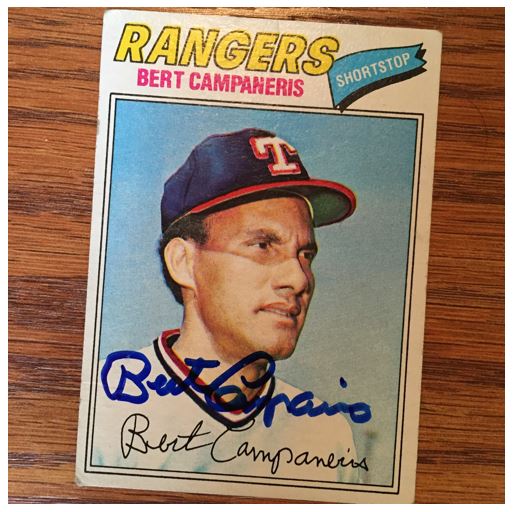 TTM Stats
Sent: 6/9/17 | Received: 8/15/17 | 66 Days
'77 Topps, '81 Fleer, '81 Topps
Address: Home
The Story of the Autograph
His full name is Dagoberto Campaneris Blanco, but he was nicknamed "Bert" or "Campy". Bert was born in Cuba and was kind of a little guy. However, that didn't stop him from jacking two bombs in his major league debut (one of them off of Jim Kaat). He's one of five players in major league history to do so.
Mr. Campaneris mostly played for the Kansas City / Oakland Athletics in his career but also spent time with the Rangers, Angels, and Yankees. He was a six-time All-Star (most of those with the A's) and won 3 World Championships. He also led the league in stolen bases six times. All that said, maybe the most interesting accomplishment is that on September 8, 1965, Bert played all nine positions in one game. And even better than that, when he pitched he used both hands.
Good ol' Campy has stayed in baseball throughout the years and still plays in Old-Timers' games.  Thanks Campy!
The Score on Bert Campaneris – 4.0


I usually don't like having guys sign cards that have the pre-printed signature on it, but in this case that was the card that worked the best. The others are either not as good of a sign or just a bad card to sign on. I this case, I didn't have as much to work with in my collection. Mr. Campaneris has a bit of "old guy" signature, but when I look at the pre-printed one, it pretty much has been that way all along.
I appreciate the signature, but I'm just not as excited about the style – 4.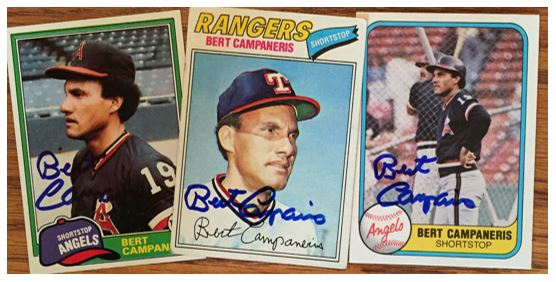 >>> READ MORE ABOUT MY AUTOGRAPH SCORING SYSTEM <<<
Thanks for visiting BravestarrCards.com: Card Collecting and TTM Autographs.