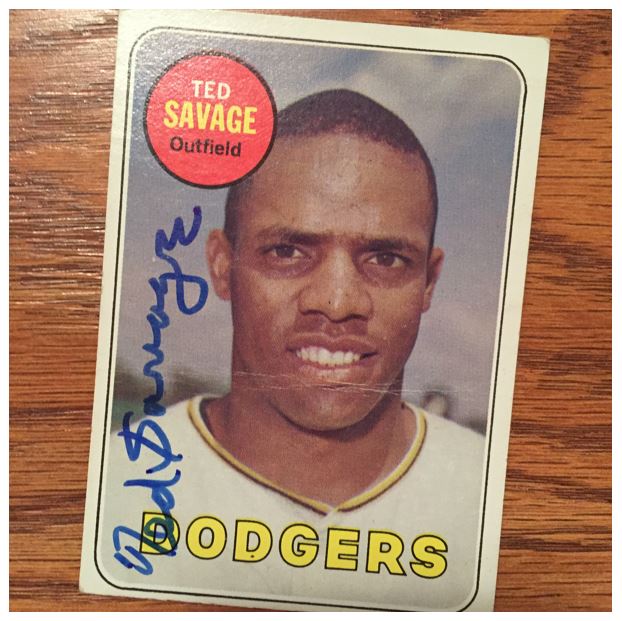 TTM Stats
Sent: 8/4/17 | Received: 8/14/17 | 10 Days
'69 Topps
Address: Home
The Story of the Autograph
Mr. Savage played for eight different teams over his nine year career. The most time he spent with any team was the Cardinals from 1965-1967. His best season was probably 1970 when he hit .279 with 12 home runs and 50 RBI in 343 plate appearances. He only 642 games total over his nine years.
After baseball Savage earned his Ph.D in urban studies from St. Louis and spent time as a college athletic director. He then moved on to the cardinals as assistant director of community relation and was a minor-league instructor. He went on to spend 25 years working with the Cardinals.
The Score on Ted Savage – 5.5


The is another one in some recent oldies but goodies that I found to send out. In fact this might be the last. I think its interesting that he signed the card vertically when there was space to sign horizontally. He joins guys like Jim Leyland and Tony LaRussa in doing that. One little quirk in his signature I see is the line through the "S." I haven't looked to see if he does that consistently, but if he does maybe we need to call him Ted "Money" Savage.
Overall, I think he has an OK signature. It reminds me a bit of my grandfathers and some other older guys that have singed for me. I like the little quirk too. Ultimately it's middle of the road in my book, and the card I gave him to use has a crease as well.
>>> READ MORE ABOUT MY AUTOGRAPH SCORING SYSTEM <<<
Thanks for visiting BravestarrCards.com: Card Collecting and TTM Autographs.