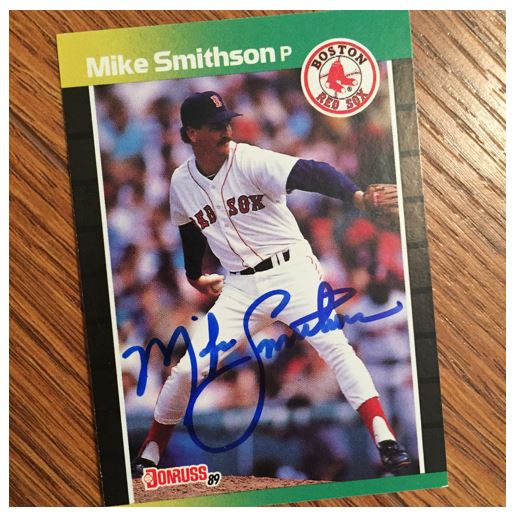 TTM Stats
Sent: 8/19/17 | Received: 8/31/17 | 12 Days
'84 Topps, '85 Topps, '87 Topps, '89 Donruss, '89 Topps
Address: Home
The Story of the Autograph
Mike Smithson (who's given first name is Billy) pitched for the Rangers, Twins, and Red Sox. He was extremely tall at 6'8″ in height. He actually led the Major Leagues in games started in 1984 and 1985 while pitching with the Twins and won 15 games in each of those years.
Mr. Smithson was part of the longest baseball game in history between the Pawtucket Red Sox and Rochester Red Wings. The game was played on Saturday, April 18th and Sunday, April 19th in 1981. Mike pitched the 15th, 16th, 17th and left after 2 outs in the 18th. Ultimately the game went to 32 innings and was suspended. After resuming on June 23rd, the PawSox won in the 33rd inning.
The Score on Mike Smithson – 7.5


I really like the consistency in Mike's signature. That "S" in his last name is so classic. He's got a great flow and I think this would look amazing on a baseball. I chose the '89 Donruss to show as the main image because its really clear, but honestly the others are good too and only the card gets in the way. Something interesting you can see is on the '85 card. He signed in blue on every one but that one. I wonder if it was because he was signing over blue in that card, or if he just felt like the pen wasn't great, or if he just stopped in the middle and picked up a different pen. If it was one of the first two scenarios – awesome! You know I like it when guys take care in how they sign.
7.5 – Thanks Mr. Smithson!

>>> READ MORE ABOUT MY AUTOGRAPH SCORING SYSTEM <<<
Thanks for visiting BravestarrCards.com: Card Collecting and TTM Autographs.