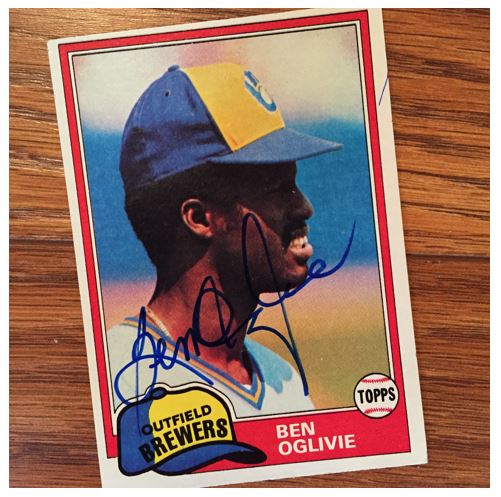 TTM Stats
Sent: 7/28/17 | Received: 9/1/17 | 33 Days
'81 Topps, '84 Topps, '85 Topps, '87 Topps (send back '81 Topps League Leaders unsigned)
Address: Home
The Story of the Autograph
Ben Oglivie was born in Panama. He played in the outfield four teams but I think most notably for the Brewers where he had a lot of success. He was a three-time All-Star ('80, '82, '83) and won the Silver Slugger in 1980 when he also led the league in homers. He was actually the first non-US born player to lead the AL in that category. After his time in baseball in the US, Mr. Oglivie played for a couple year in Japan. He tried to make it back to the majors in the US again but never made it back.
The Score on Ben Oglivie – 7.0


I used the '81 Topps card for the featured image because that was the year after he led the league in homers. He sent back the league leaders card for that year and I'm going to guess it was because it was a multi-player card and it would have been a smaller signature. I really like his signature and this is a new one for me because I don't have anything else from him. I love that last loop he puts on his "B". He signs pretty big and uses a great pen. Actually I've been liking these thin blue sharpies a lot lately.
Great job and thanks Ben! 7!
>>> READ MORE ABOUT MY AUTOGRAPH SCORING SYSTEM <<<
Thanks for visiting BravestarrCards.com: Card Collecting and TTM Autographs.