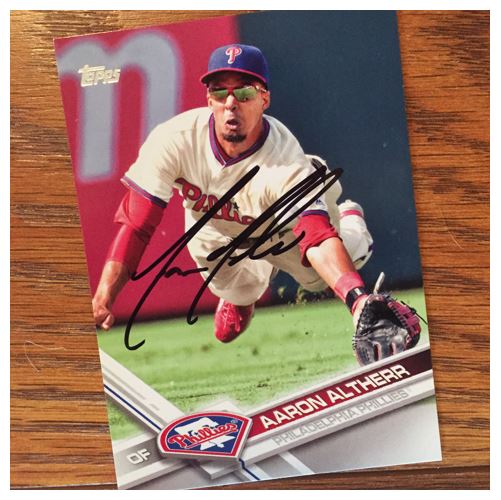 TTM Stats
Sent: 7/15/17 | Received: 9/22/17 | 67 Days
'17 Topps
Address: Philadelphia Phillies
The Story of the Autograph
Aaron Altherr is German and is from Landstuhl, Germany. His Mom was in the US Military over there and his Dad is a former German soccer player. So that makes a few international (if you want to put it that way) successes this year.
Altherr has been a bit up and down in his career. He's been on the Phillies major league roster a few times starting in 2014. His time has increased each year since then, however he has had some injuries that have gotten in the way as well now that he's more of a major league than ever before.
As far as career highlights goes I think he has two big ones:
On September 25th of the 2015 season he hit an inside-the-park grand slam off of Jordan Zimmermann in a win over the Washington Nationals. It was the 225th of its kind in major league history and the first since 1999. He also hit another homer that game and became the first guy to do that since 1987.
This season, on September 18, 2017, he his a grand slam off of Clayton Kershaw. It was the first grand slam ever given up by Kershaw who has been in the league for 10 seasons. And it was a 4-3 win so Altherr accounted for all the runs for the Phils in that game.
Overall Altherr is a promising young player, but it's hard to say how he fits into the Phillies plans. With guys like Odubel Herrera and Rhys Hoskins he could definitely be another outfielder, but to be honest I am not sure what else the Phillies have coming up in their system. Good luck to Aaron though!
The Score on Aaron Altherr – 7.0


I got the idea to send to Aaron from the son of the drummer in my band. The link there is that when his son started collecting I helped him out and gave him A TON of my doubles and stuff. He had a success from Altherr after Spring Training so I like that I actually got the info from him and that he still in the hobby.
This is definitely one of my recent favorites. I love the "A" in the first and last names with the little curls on both ends. Not the thickest marker, but not thin like I've been seeing from a few guys recently. Still nice and clean though. Plus I like Altherr's face on the card.
Solid 7 for me on this one.
>>> READ MORE ABOUT MY AUTOGRAPH SCORING SYSTEM <<<
Thanks for visiting BravestarrCards.com: Card Collecting and TTM Autographs.