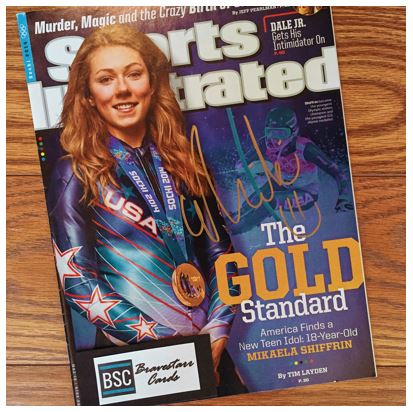 TTM Stats
Sent: 5/15/17 | Received: 6/9/17 | 24 Days
Sports Illustrated 3/3/14
Address: Fanmail Address from Website
The Story of the Autograph
I did the research to get the address from her site, but I didn't think I would get the magazine back signed. First, while it might have been the end of her sport's season, the season is mostly in Europe. Second, I've sent something to Lindsay Vonn before and got back items signed but not the magazine I sent. That was great and it's kind of what I expected here. Instead I got back one of my favorite successes of my collection.
The Score on Mikaela Shiffrin – 9


One of my favorites EVER! First, you've got to love the gold marker. It's clean and it fits the item to a T. Second, her placement and he size of her signature is perfect for this magazine. And lastly, her signature seems to really speak to her personality (or I would like to think so). I don't know if her actual signature reflects "Mikaela" or something more like a nickname like say "Mikie". But then I love the little smiley face below it – AWESOME!
9 DEFINITELY! It's hard to give a perfect score, maybe I just trying to avoid a 10.
>>> READ MORE ABOUT MY AUTOGRAPH SCORING SYSTEM <<<
Thanks for visiting BravestarrCards.com: Card Collecting and TTM Autographs.