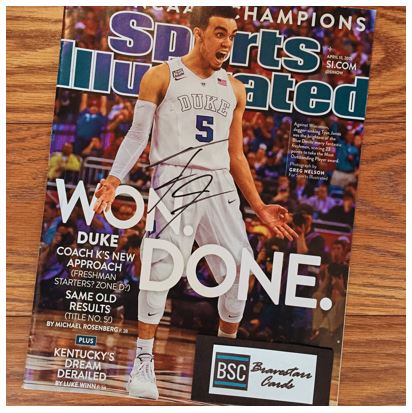 TTM Stats
Sent: 4/8/17 | Received: 6/12/17 | 64 Days
Sports llustrated 4/13/15
Address: Minnesota Timberwolves
The Story of the Autograph
Do I have a thing for Dukies this month? Coach K and Tyus….  Nah! Tyus is currently a PG with the Minnesota Timberwolves, but this cover depicts him winning the National Championship in 2015 and Winning the MOP award for the tournament. Tyus was selected by the Cleveland Cavaliers at 24th over all a couple months later. The Timberwolves then traded for him. The Timberwolves are actually Tyus' "hometown team" as Tyus was born in Burnsville, MN and went to Apple Valley HS where he was Mr. Basketball for the state of Minnesota and a McDonald's All-American in 2014.
The Score on Tyus Jones- 7


I really like the "T" and "J" sticking out in his signature, but ultimately it's a bit plain. He picked a great place for the signature (even though it's not the best spot on him – he he!). The signature is solid, but it's good on this item.
This one deserves a 7.
>>> READ MORE ABOUT MY AUTOGRAPH SCORING SYSTEM <<<
Thanks for visiting BravestarrCards.com: Card Collecting and TTM Autographs.