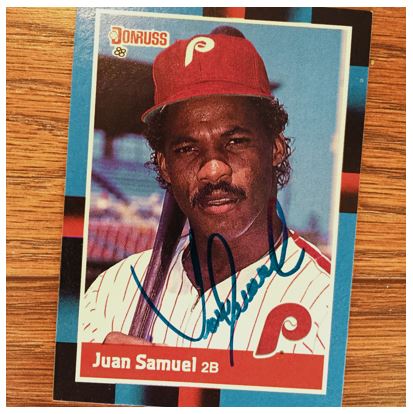 TTM Stats
Sent:  5/27/17     |     Received:     6/8/17     |     11 Days
'87 Topps (2), '88 Bazooka, '88 Donruss, '89 Topps Big
Address:  Philadelphia Phillies
The Story of the Autograph
Juan Samuel has always been a good signer. He's signed anything I've ever sent him and it's usually quick. Juan was a long time Phillie and appeared in the '83 World Series with them and is currently their 3rd base coach. A 3-time All-Star, and Rookie of the Year selection in '84, Juan had some really great years in Philadelphia. I didn't work on TTM autos when I he was playing and with the way he signs now, I wonder if he's always been this type of reliable signer or if this was something that came to him after his career ended.
The Score on Juan Samuel – 6.5


Juan has a really great signature and is always reliable and fast. Plus his signature is so consistent. The angle he uses is great and he always uses a great pen. I really think he cares about doing this for fans and he takes his time with his signature. I think I have other cards that I like his signature on better, but for this offering I think it's pretty solid.
I'm giving these a 6.5 and honestly the cards are dragging Juan's beautiful signature down.

>>> READ MORE ABOUT MY AUTOGRAPH SCORING SYSTEM <<<
Thanks for visiting BravestarrCards.com: Card Collecting and TTM Autographs.