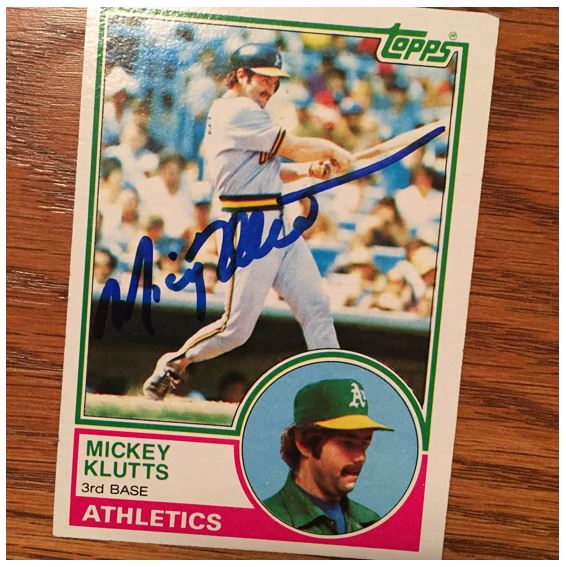 TTM Stats
Sent: 11/25/2017 | Received: 12/9/17 | 14 Days
'81 Fleer, '83 Topps
Address: Home
The Story of the Autograph
Mickey Klutts played third base for the Yankees, Athletics, and Blue Jays from 1976 to 1983. He was a favorite of manager Billy Martin, who he played for in New York and Oakland.
Despite the name (which is one of my favorites in baseball), Mickey was an OK fielder. He had 26 errors over his career for a .944 career fielding percentage. Most of those came at third base where he played 153 games (114 starts).
Mickey never played in more than 75 games. He did that in 1980, but even with the amount of games he played that year, his totals would be topped the next year in certain areas. In 1981 he played in 15 games  and only had 48 plate appearances. He would still hit the most home runs of his career (5) and bat .370. I know that's not a large sample size, but the year before he only hit four home runs in 212 plate appearances.
The Score on Mickey Klutts – 7.0


Mickey has a great autograph. Both of these cards are doubles in my collection and it looks like they'll be replacing what I have. The marker is much thinner on these and it helps the autograph come out a bit better. I like the style of his autograph overall. With the clean marker it looks great. If I would pick on anything it would be the size. I feel like it could take up some more space but when he crosses his "tts" he really swipes it and takes up more room.
Thanks again Mr. Klutts. These get a 7.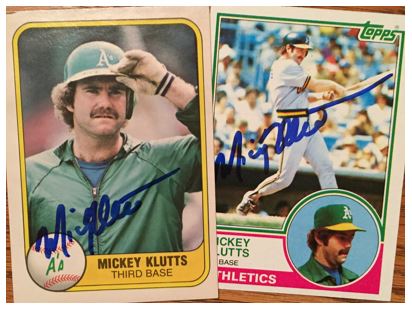 >>> READ MORE ABOUT MY AUTOGRAPH SCORING SYSTEM <<<
Thanks for visiting BravestarrCards.com: Card Collecting and TTM Autographs.