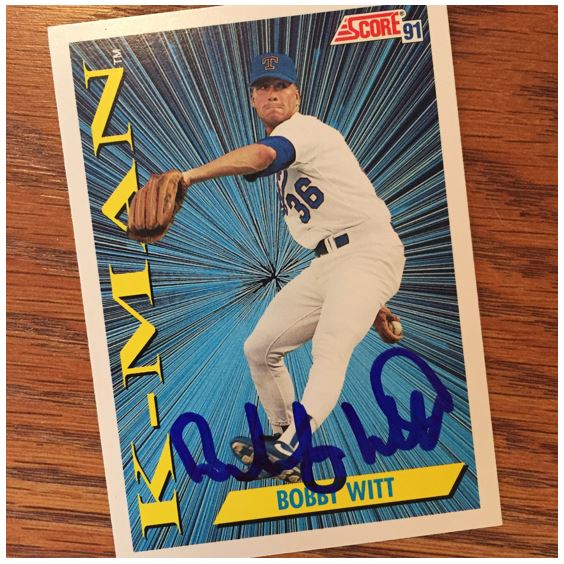 TTM Stats
Sent: 10/31/17/2017 | Received: 12/9/17 | 42 Days
'90 Fleer, '90 Topps, '91 Score, '92 Score, '92 Topps
Address: Home
The Story of the Autograph
Bobby Witt is a former pitcher with several teams. The largest part of his career was spent with the Texas Ranger in two stints (1986-1992 and (1995-1998). The other teams Witt played for are the A's, Marlins, Cardinals, Rays, Indians, and Diamondbacks. He was a hard throwing pitcher and had some control issues, hence the "Witt n Wild" moniker after the Wet n Wild waterpark name located hear Arlington Stadium.
Witt started with an 11-9 record as a rookie in 31 starts, but he also led the league with 143 walks in 157+ innings pitched. He would also lead the league in walks the next year as well. 1990 was one of the best seasons of his career when he would sport a 17-10 record and a 3.36 ERA. He would also strike out 220 batters over 222 innings (hence the "K-Man" card).
After 1992, when Bobby would be traded to the Athletics, he really skipped around to a lot of teams. He missed out on a perfect game with the A's because of a missed called. He pitched a complete game that day and allowed one hit and no walks, but the replays would show that the umpire called Greg Gagne safe on a close bunt play when he was really out.
Witt's last season was with the Diamondbacks and his last appearance came in Game 6 of the 2001 World Series when he would help the team win the World Series.
An interesting moment for Witt, in 1987 he struck out four batters in one inning.
The Score on Bobby Witt – 6.0


Bobby has a pretty solid signature. He uses the space and where he tends to sign (the bottom) really works for his cards. Or at least for the cards I sent. All these cards can take an autograph really well. They all are bright and not too busy. But Bobby uses a really strong marker too so that helps a lot. The only part that I don't like is a little of the consistency. The 1990 Fleer is the best one of the lot. Where I notice some inconsistency is a the end of the signature in the loop. each one is a little different in how he loops to cross the "ts". Some have a kind of skip.  The Fleer card just pulls it off the best.
Thanks Mr. Witt, I'm giving these a 6.

>>> READ MORE ABOUT MY AUTOGRAPH SCORING SYSTEM <<<
Thanks for visiting BravestarrCards.com: Card Collecting and TTM Autographs.