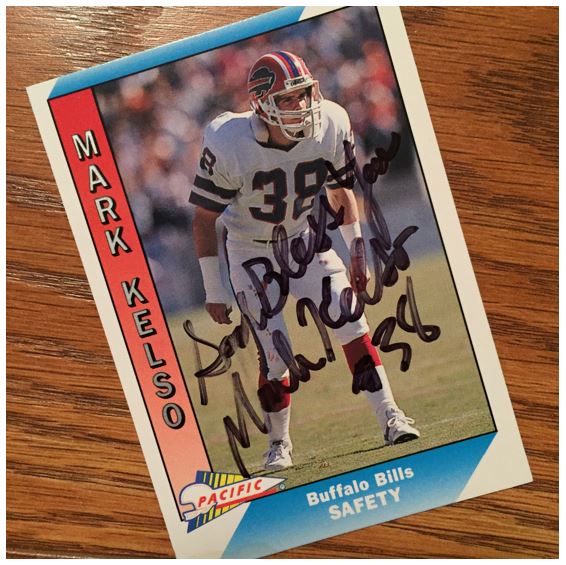 TTM Stats
Sent: 11/18/2017 | Received: 12/9/17 | 21 Days
'90 Fleer, '91 Pacific
Address: Home
The Story of the Autograph
Mark Kelso played for the Buffalo Bills from 1986 through 1993. He played as a safety and appeared on the teams that made four consecutive Super Bowl appearances from 1990-1993. These days Mr. Kelso works as a color commentator for the Bills on the radio.
Mark was always a fan favorite in Buffalo. He was drafted at 5'11" and 177 lbs. which even for a safety seems tiny. He also went to William & Mary which is not a football hotbed. But somehow Mark Kelso could play and he stuck around for eight years.
You can see one of the things he is famous for in the 1990 Fleer card below. At times he wore the "pro cap" to reduce the concussion risk. This was way before any of concussion and CTE talk that we've had over the last several years. So in that respect, Mark was very ahead of the times. His best year came in 1988 when he intercepted eight passes, taking one to the house for a score.
The Score on Mark Kelso – 4.5


Mark's autograph and everything he puts on the card is fine, the issue with these cards is clearly the marker. And "clearly" is the problem because that marker is not doing so well. I've seen autos come out fine on these two cards so I don't think it's the cards. The marker here looks like it's just at the end of it's life. I like when a guy puts his number on the card too, but in this case the # really looks a bit messed up. It just looks like a blob.
I'd give this a higher score because it's a solid autograph but the marker kills it on this one. Thanks Mr. Kelso. I'm giving these a 4.5.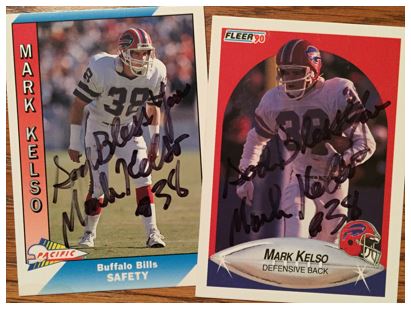 >>> READ MORE ABOUT MY AUTOGRAPH SCORING SYSTEM <<<
Thanks for visiting BravestarrCards.com: Card Collecting and TTM Autographs.