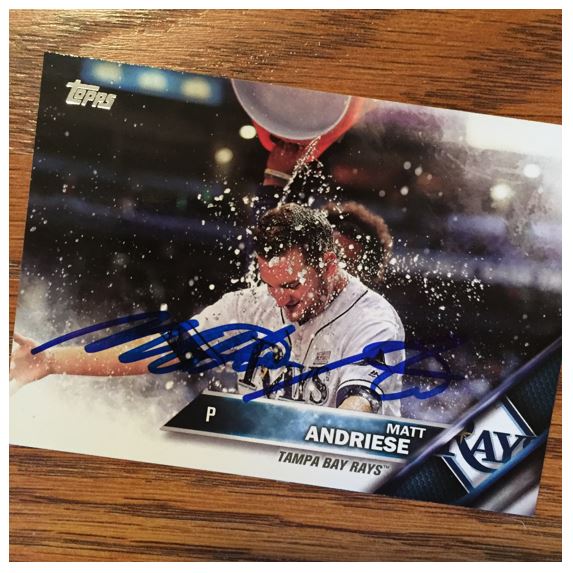 TTM Stats
Sent: 9/1/17 | Received: 10/6/17 | 35 Days
'16 Topps
Address: Tampa Bay Rays
The Story of the Autograph
Matt Andriese has not had a long career thus far having broken into the majors in 2015 and has spent his career thus far with the Rays. He was originally drafted by the Padres in 2011 and made it up to Triple-A with them and then was traded to the Rays.
I found this if you rather watch your Matt Andriese background…
Andriese made his debut in the 2015 season after making the Opening Day roster. In his first year he worked as both a starter and a reliever. He did the same thing in the 2016 season as well.  In 2015 and 2016 he made 25 and 29 appearances respectively. His record wasn't the best and he had a 4+ ERA both years.
2017 was a little different for Matt. He was part of the rotation again coming out of Spring Training. He started the season great at 5-1 with a 3.54 ERA in 12 starts. But then he had a stress reaction in his hip and went on the 60-day DL.
The Score on Matt Andriese – 5.5


This was part of a bunch of cards I sent out a little late in the year. I was kind of thinking that most didn't have a chance of coming back. That's not necessarily wrong yet, but we'll see what happens since the regular season ended.
I really like this card and the subject matter. When I think about the cards in Stadium Club I feel like this kind of goes along with those. The '16 Topps cards tend to have a great place to sign, but usually it's better on the portrait cards instead of the landscape because the white at the bottom is a little more pronounced. This has a bit of darkness which hides the autograph a little.
I like Matt's signature. What I think is interesting about it is that if you look at what he writes, he kind of just signs "Matt A." Usually you see more put into a last name rather than a first. Its a really clean signature and it fits on the card well size-wise. I think its a good effort.
Thanks Matt! 5.5 for this card.
>>> READ MORE ABOUT MY AUTOGRAPH SCORING SYSTEM <<<
Thanks for visiting BravestarrCards.com: Card Collecting and TTM Autographs.