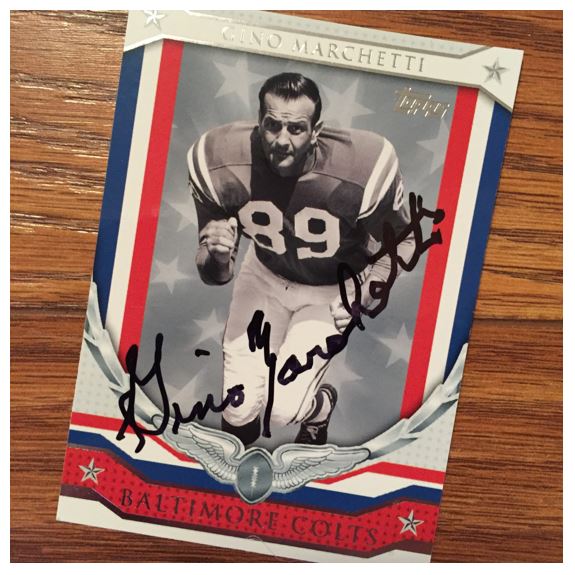 TTM Stats
Sent: 8/24/17 | Received: 10/2/17 | 38 Days
'08 Upper Deck Goudey
Address: Los Angeles Dodgers
The Story of the Autograph
Gino Marchetti was a Defensive End in the National Football League from 1952-1966. He played for the Dallas Texans and the Baltimore Colts and helped the Colts to two NFL Championships. Technically he was drafted by the New York Yanks, who became the Dallas Texans, who became the Baltimore Colts. He was a Pro Bowler 11 times, First-team All-Pro 9 times, a member of the 50's All-Decade team, and part of the NFL All-Time 75th Anniversary team. And of course with all those accolades, you'd would expect him to be in Canton. He is.
Before he even went to college, Marchetti was in the Army in World War II in the 69th Infantry Division. He was part of the Battle of the Bulge and served from '44-'46. After coming back from the war he went to college. He started at Modesto Junior College and then move on to the University of San Francisco.
He was drafted as a defensive player but they moved him to the offensive line in 1954. Gino hated player on the O-Line and he had to stay there until the next year. But even though he hated it, he credits that experience with helping him to know how to beat a blocker.
Not only was Marchetti part of two championship teams, they were back-to-back champions in 1958 and 1959. And if 1958 rings a bell, that's probably because it's thought of as being maybe one of the best football games ever. During that game he made a classic goal line stop of a running back. On the play he broke his ankle. Instead of getting it treated, he wanted to stay out on the field and watch his teammates beat the New York Giants in OT.
I think it's always interesting to see what other's of his error, his opponents thought about him:
"The greatest player in football. It's a waste of time to run around this guy's end. It's a lost play. You don't bother to try it." – Sid Gillman, LA Rams Head Coach
"You ask who was the best … just my opinion, Marchetti was the best all-around player I ever played against. Great pass rusher. Great against the run. And he never let you rest." – Forrest Gregg
The Score on Gino Marchetti – 6.0


It's hard to say how happy I am to get this one back. I love getting some classic players back and this is the first football card I've ever gotten back (I just started sending them out really). I know it's not an old card, but Gino is a classic NFL star from back in the day.
You can tell that Gino is older and I'm sure his hands aren't what they once were, with football being a big part of that. You can see the hesitation stops and starts and the effort it takes him to sign. But he does it and he doesn't require a donation or anything.
In the end this is pretty clean and has great size for the card. I'm really happy with this. Thanks Mr. Marchetti! I'm giving this one a 6.
>>> READ MORE ABOUT MY AUTOGRAPH SCORING SYSTEM <<<
Thanks for visiting BravestarrCards.com: Card Collecting and TTM Autographs.