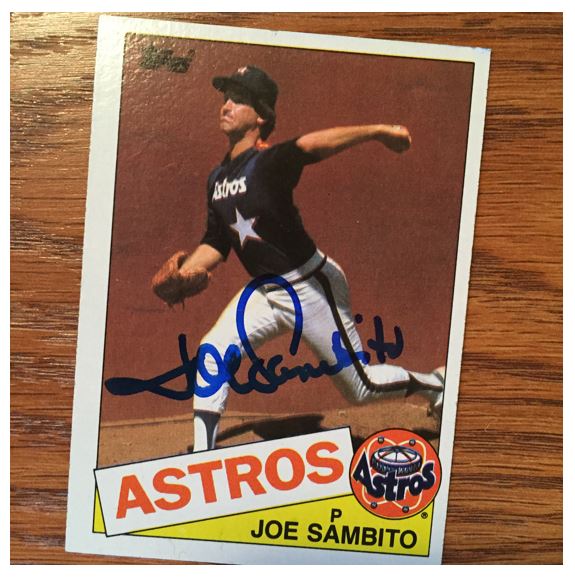 TTM Stats
Sent: 9/28/17 | Received: 10/6/17 | 8 Days
'81 Topps, '83 Fleer, '85 Topps (did not return '83 Topps)
Address: Home
The Story of the Autograph
Joe Sambito had a 11-year career. Nine of those years were with the Houston Astros and the rest was with the Mets and the Red Sox. He was a starter in the minors but once he got up to the majors the Astros immediately moved him to relief. He specialized in fastballs and sliders for the most part.
As a reliever he moved into the closer role in a couple years. From 1978 to 1981 Sambito would lead Houston in saves and has his most in 1979 when he had 22. He also had a 1.78 ERA that year and went 40 2/3 innings without giving up an earned run. He made the All-Star team that year. In 1982 he started out well. But then it was discover that he had damaged ligaments and bone chips in his left pitching elbow and missed the next few years recovering from Tommy John surgery. The next two years after that he had comeback attempts with the Astros, and then with the Mets (his hometown club after growing up on Long Island), but failed in both.
In 1986 he made the ball club with the Boston Red Sox. He ended up helping them to the World Series that year. 1987 wasn't as good a year and Joe retired with a 37-38 record and 3.03 lifetime ERA.
Joe later became a players counselor and representative and represented Andy Pettitte, Ryan Klesko, Jeff D'Amico and Morgan Ensberg.
The Score on Joe Sambito – 7.5


Joe has a pretty dope signature. Let's start with the "Joe." That "J" is sharp. Plus you can read it, but it still has enough style that it's cool. And you can see how he writes it and the path of his pen. The we look at "Sambito" and while the "ambito" is pretty standard stuff, that "S" is great. I like that it's very top heavy and then almost comes out as a figure out. I feel like this would look great on a baseball.
As far as how it look on the cards… awesome. The signature is strong and clean with good size. There's no bad marker here. The only problem is the card on the '81 Topps. There a little bleeding on that one and you can tell it didn't take the marker well. But that's all part of the card. Joe did keep one of the cards, but the signatures are appreciate non-the-less. I'm giving these a 7.5.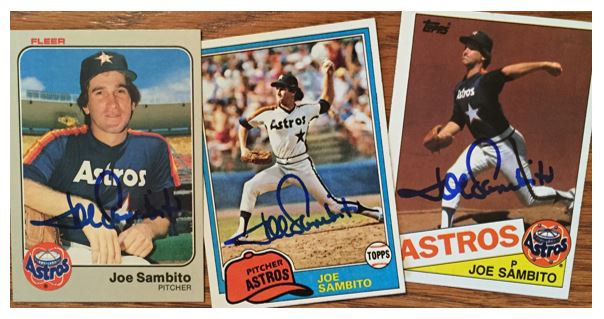 >>> READ MORE ABOUT MY AUTOGRAPH SCORING SYSTEM <<<
Thanks for visiting BravestarrCards.com: Card Collecting and TTM Autographs.