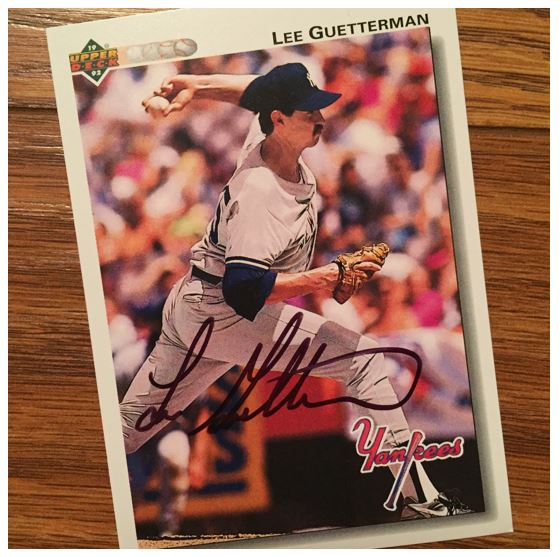 TTM Stats
Sent: 9/16/17 | Received: 10/14/17 | 28 Days
'90 Fleer, '91 Topps, '92 Topps, '92 Upper Deck, '93 Fleer
Address: Home
The Story of the Autograph
Lee Guetterman played as a left-handed relief pitcher in the Majors. Over a 12-year career he played for the Mariners (twice), Yankees, Mets, and Cardinals. He's actually one of the few players that have been traded between the Yankees and Mets, when in 1992 he went from the Bronx to Queens for Tim Burke.
Lee did have one year, 1987, when he started 17 games. He ended up with an 11-4 record and a 3.81 ERA that year. All of his starts except for two came with the Mariners. When he went to the Yankees in 1988 he made those two starts and would never start another game for the rest of his career. From a numbers standpoint nothing else really stands out from a positive perspective except for the 70 games he appeared in in 1989 in New York. That put him in the top five in appearances.
Lee finished his career in independent baseball with the Sioux Falls Canaries.
The Score on Lee Guetterman – 4.5


Lee returned all of my cards plus he added a card of his own that was signed. I kind of want to compare his signature to something you might see on the Constitution or the Declaration of Independence. Its not as "nice" (meaning perfect handwriting as those). But I think with the way he loops around to cross his "ts" it maybe makes it look like that. It looks like he uses a pretty good marker and he signs pretty consistently across the cards. I would say he fills up the cards, but he kind of does that with a lot of that loop.
Definitely appreciate the signature on these, but I would put the cards in a middle-ground. I'm giving these a 4.5.
>>> READ MORE ABOUT MY AUTOGRAPH SCORING SYSTEM <<<
Thanks for visiting BravestarrCards.com: Card Collecting and TTM Autographs.