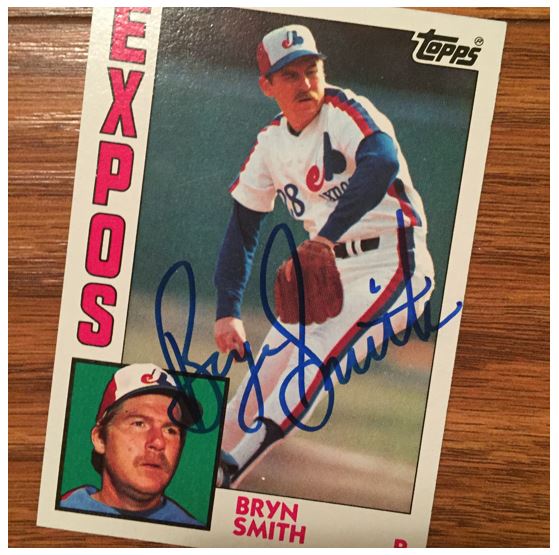 TTM Stats
Sent: 9/23/17 | Received: 10/14/17 | 21 Days
'84 Topps, '88 Donruss, '89 Topps Big, '90 Donruss, '92 Topps
Address: Home
The Story of the Autograph
Bryn Smith pitched for 13 years in the Major Leagues with the Expos, Cardinals and Rockies. He was drafted in the 49th round (by the Cardinals) in the 1973 draft, but did not sign. He was later signed as an amateur free agent by the Orioles and traded to Montreal. That's where he made his major league debut in 1981.
He played for the Expos from 1981 through 1989. While with Montreal he went 81-71 with a 3.28 ERA as a starting pitcher for the most part. His best career year was in Montreal in 1985 when he went 18-5 (3rd in the NL in W-L %) with a 2.91 ERA in 32 starts. That year was helped by a pair of five-game win streaks and he was picked as Expo Player of the Month for July with a 3-1 record and a 1.74 ERA.
But Montreal wasn't all it was cracked up to be for Bryn. In 1989, his least year north of the border, he complained to Sports Illustrated about the playing conditions in Montreal. Included in this was that you have to drive to Plattsburgh, NY just to by Doritos. In 1990, Smith moved on to the Cardinals during Free Agency.
The Rockies were the last team that Smith played for in 1993 during their inaugural season. He only went 2-4 that year with an 8.49 ERA in 5 starts and 11 total appearances. And if you are ever asked the question of who was the first winning pitcher in Colorado Rockies history, the answer is Bryn Smith who defeated the Montreal Expos 11-4 on April 9, 1993.
The Score on Bryn Smith – 5.0


Bryn is always a great signer because he signs everything you send and he signs it pretty quickly usually. His autograph isn't the most attractive necessarily, but I like that it's pretty consistent. And I always love when guys sign pretty big and he does. Those capital letters are nice and big. The only signature that isn't as consistent as the others is on the Topps Big card that looks as if there is a gap in the "S."
Thanks Mr. Smith, 5!

>>> READ MORE ABOUT MY AUTOGRAPH SCORING SYSTEM <<<
Thanks for visiting BravestarrCards.com: Card Collecting and TTM Autographs.