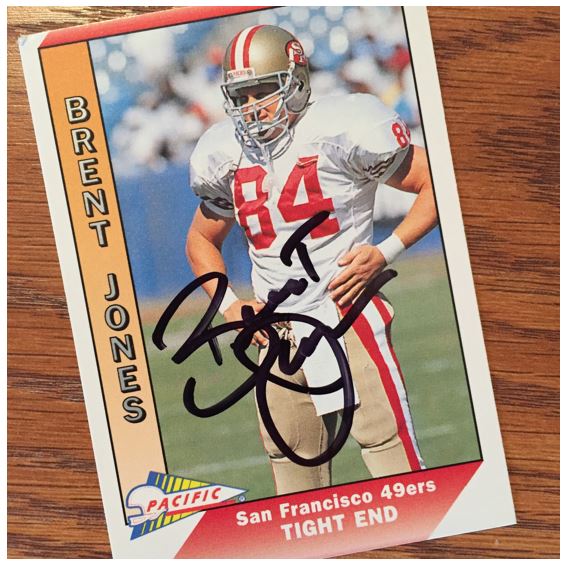 TTM Stats
Sent: 11/3/2017 | Received: 12/4/17 | 31 Days
'91 Pacific, '93 Wild Card
Address: Business – Northgate Capital
The Story of the Autograph
Brent Jones played Tight End with the Steelers for one year ('86) and the 49ers for 11 ('87-'97). The move to the 49ers was pretty lucky. He went on to win three Super Bowls, become a three-time All-Pro (consecutively), make the Pro Bowl four years (consecutively), and was the Bart Starr Man of the Year in 1998.
The nature of how Brent got to San Francisco, while being lucky because he had so much success there, was unlucky in how it happened. Jones played for Santa Clara University and was drafted in the 5th round of the 1986 NFL Draft. Five days later he got into a car accident and injured his neck. The Steelers would keep him on the roster for a little while and then released him. The 49ers signed him the following season as a backup during training camp.
During those prime years in San Francisco (1992-1995) I think his best season was 1994. That year he played 15 games, and caught 49 balls for 670 yards and scored 9 TDs (a career high).
Jones' daughter Courtney is a soccer player and plays professionally in the NWSL.
The Score on Brent Jones – 7.5


I found Brent at a company he founded, Northgate Capital. It looks like you can still send to him there even though he is no longer part of the company.
He has a really great signature. His capital letters are great. This might be one of the best "stacked" autographs I've seen (first name on top of last). The only thing I don't like about these is what happened to the "B" on the '93 Wild Card card. I wonder if that is what he signed first and it was a marker he hadn't used in a while. It just didn't come out as strong as the rest. But in the end these are great overall.
Thanks Mr. Jones… 7.5!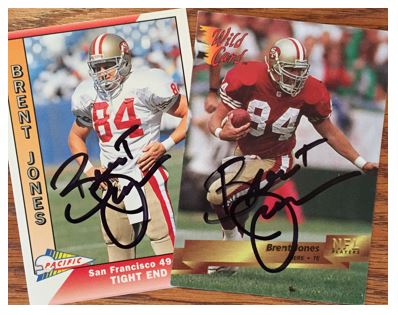 >>> READ MORE ABOUT MY AUTOGRAPH SCORING SYSTEM <<<
Thanks for visiting BravestarrCards.com: Card Collecting and TTM Autographs.