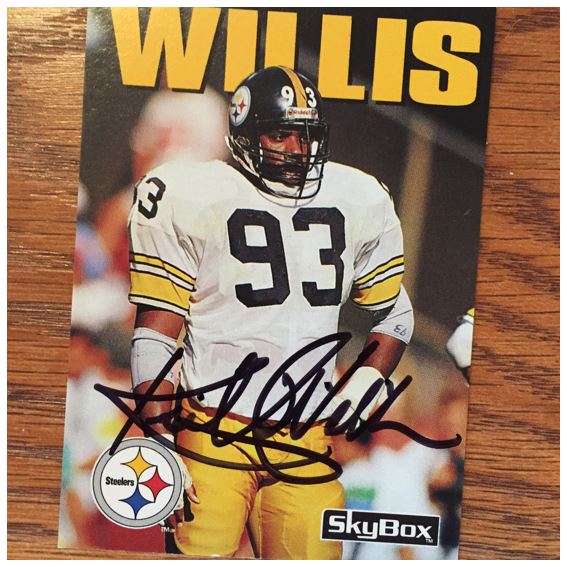 TTM Stats
Sent: 11/16/2017 | Received: 11/24/17 | 8 Days
'91 Pacific, '91 Pro Set, '91 Pro Set Platinum, '92 Skybox
Address: Tennessee Titans
The Story of the Autograph
Keith Willis played on the defensive line for the Steelers, Bills, Redskins and Jets. He would be best known as a Steeler as he played there from 1982 through 1991.
Keith had some great seasons as a Defensive End in Pittsburgh. He played as a starter from 1985 through 1990 and started all 16 games four times. He reach double digit sacks twice. In 1985 he had 12 sacks, but in 1983 in 14 games and only four starts he registered 14 sacks and added a fumble recovery to boot. Both of those seasons he was in the top 10 in sacks.
These days Keith is the assistant defensive line coach for the Tennessee Titans. He's held the same position almost since he's left the league with colleges (Slippery Rock, Cincinnati, Boston College, and NC State) and CFL teams (Montreal Alouettes).
The Score on Keith Willis – 8.0


And another one back from the Titans (players and staff). That's another good group of dudes right there. Keith really has a great signature. This is another of those signatures that reminds me of an old school 1700's signature, at least elements of it do. That "K" is pretty great and what he does with the "h" really give his signature a bit of flair.
This is one of those that makes me wonder, why did he go with the gold? Did he think it would come out better on that card? Does he always add a gold one in? No matter what I think its great because to me those things always make me think that the signer cares more about what he's doing.
Great job Mr. Willis and thanks! I'm giving these an 8.0.

>>> READ MORE ABOUT MY AUTOGRAPH SCORING SYSTEM <<<
Thanks for visiting BravestarrCards.com: Card Collecting and TTM Autographs.