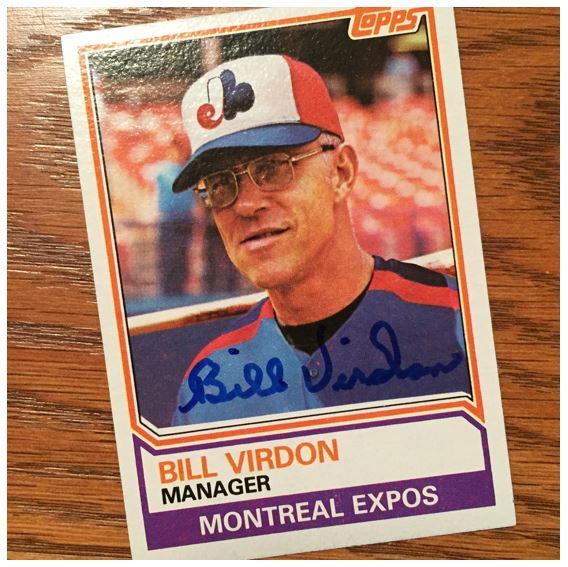 TTM Stats
Sent: 11/18/2017 | Received: 11/25/17 | 7 Days
'83 Topps
Address: Home
The Story of the Autograph
Bill Virdon played center field for the Cardinals and Pirates from 1955 thought 1968. He also managed the Pirates, Yankees, Astros and Expos from 1972 thought 1984. For this post we'll focus on Bill's managerial career since this is a manager card.
Virdon's managerial career really started when his playing career started. In 1956 he started a baseball academy. Then after the 1962 and 1964 seasons, he coach in the Arizona Fall League and the Florida Instructional League, respectively. After retiring from playing in 1965 he joined the Mets as a manager in the minor leagues.
His first managing gig was with the Pirates. He interviewed for the position as early as 1969 while he was a coach with the team, but the team went with someone else. In 1971 the Pirates won the World Series with Virdon as a coach. In 1972 Virdon got the job as the previous manager left for health reasons. Virdon let the 1972 Pirates to the NL East title but lost to the Reds in the NLCS (Ugh, on a wild pitch in the last inning of Game 5!). The Pirates finished third the next season and they let Virdon go. Somehow they replaced him with the guy they had prior to Bill.
For his next job Virdon ran into a bit of luck. The Yankees hired Dick Williams in 1974, but the deal was nullified because Dick was still under contract with Oakland. The Yankees hired Virdon. That year Bill won the Manager of the Year award in leading the Yanks to a second place finish in the AL East, one game behind Baltimore.
Next up was a job with the Astros. He led them to some OK finishes, then in 1979 the team was one game back from winning the NL West. In 1980 the Astros tied the Dodgers for the division championship and beat them in the 1980 NL West tie-breaker game. The ultimately lost to the Phillies in the NLCS. But that strong finish earned Bill another Manager of the Year award.
The Score on Bill Virdon – 5.5


Bill is currently 86 and you can tell from his signature which is a bit wiggly. But I don't mind the wiggly. I have several autographs from older guys and I appreciate that they still take time out to sign for people. Bill uses a great marker and he has a pretty strong signature. I'd love to see how his autograph comes out on some more exciting cards, I just don't know that I have other cards to send to him.
This one is pretty solid and I give it a 5.5. Thanks Mr. Virdon!
>>> READ MORE ABOUT MY AUTOGRAPH SCORING SYSTEM <<<
Thanks for visiting BravestarrCards.com: Card Collecting and TTM Autographs.