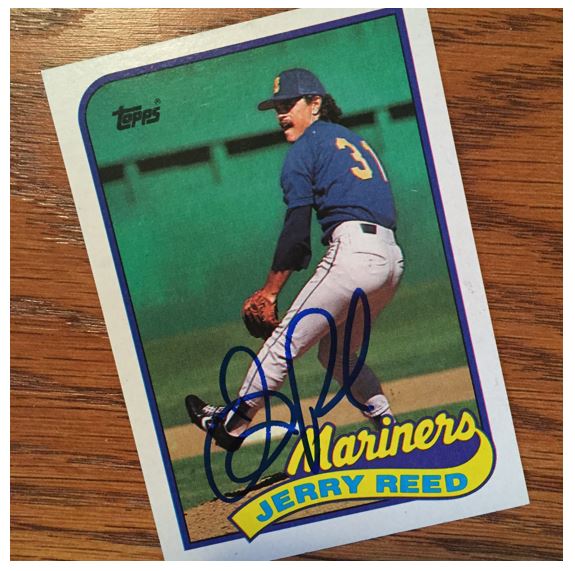 TTM Stats
Sent: 9/28/17 | Received: 10/6/17 | 8 Days
'88 Fleer, '88 Topps, '89 Fleer, '89 Fleer, '89 Upper Deck
Address: Home
The Story of the Autograph
Jerry Reed was a relief pitcher from 1981 to 1990 and pitched for four teams: Philadelphia, Cleveland, Seattle, and Boston. The majority of his career was with Seattle though in the late 80's.
His first several years were not filled with time in the majors, he only pitched 11 games over two years for the Phillies before being traded to the Indians. The Indians sent him to the minors for the '84 season and in '85 he pitched in 33 games with five starts. He pitched alright, but in 1986 he was released during Spring Training.
Back in the minors after signing with Seattle he eventually got back up to the majors. He went 4-0 in 11 games and was a bullpen guy for Seattle for the next few years. 1987 was a career best when he pitched in 39 games with a 3.42 ERA and he even picked up seven saves. He was released in 1990 and Boston gave him a shot. His ERA got to a pretty big 4.80 and he was released in August.
In a "Glory Days" type of story, Reed pitched for Western Carolina University and threw the first no-hitter in their history.
The Score on Jerry Reed – 5.0


Jerry has a kind of "focus on the initials" feel to his signature. He puts in a little more than that, but in the end this is mostly a "J" and an "R." I don't necessarily mind that in his signature. It's definitely more than I've seen from others, and at least it looks like his initials (unlike some others). These are pretty clean and he used a good marker. I think the tough part about these is that for what he is signing, I think it would be great to be bigger.
I really like the way it came out on that '89 Topps though. Thanks Mr. Reed! These get a 5.

>>> READ MORE ABOUT MY AUTOGRAPH SCORING SYSTEM <<<
Thanks for visiting BravestarrCards.com: Card Collecting and TTM Autographs.