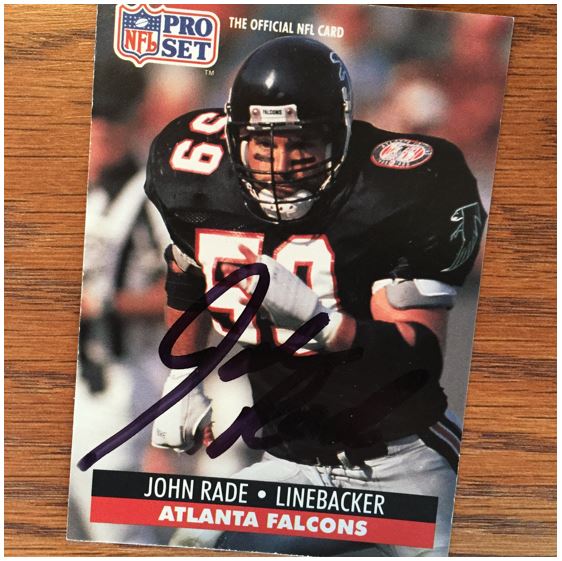 TTM Stats
Sent: 1/11/2018 | Received: 1/20/18 | 9 Days
'88 Topps, '91 Pacific, '91 Pro Set
Address: Home
The Story of the Autograph
John Rade was a linebacker in the NF for nine seasons. All nine of those seasons (1983-1991) were with the Atlanta Falcons. He was drafted in the eighth round of the 1983 draft with the 215th pick. These days they don't even have an eighth round.
John led the Falcons in tackles in 1987 and 1988. He had four 100-plus tackle season within a six year span and he had a career high 145 tackles in 1990. In 1985 he had a career high five sacks. That same year he had a career high two interceptions and returned one of them for a touchdown. He was never selected All-Pro and never made a Pro Bowl during his NFL career.
After his playing days John worked in the athletic department at Wood River High School in Idaho. He first served as the assistant coach and defensive coordinator. Later he would become the assistant AD and then the athletic and activities director. In 2009 he was named the Athletic Director of the Year in his district.
The Score on John Rade – 3.5


Man, the one card that had a chance got messed up. I don't know if that was rubbed off from John handling the cards and putting them back in the envelope, or maybe they rubbed against each other, but that '88 Topps is a bit messed up. That was the one hope in this lot. The other two are just way too dark. That's all I really had too send. I guess Falcons cards of that era are going to be way to black.
Well, no matter what, you always have to appreciate the effort. Thanks Mr. Rade. These get a 3.5.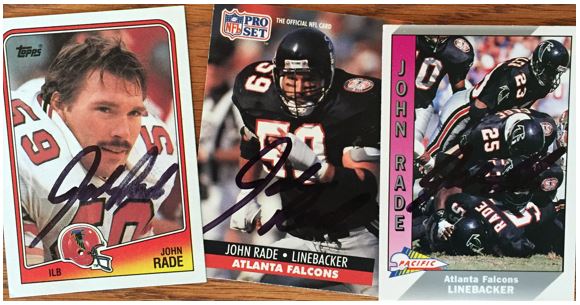 >>> READ MORE ABOUT MY AUTOGRAPH SCORING SYSTEM <<<
Thanks for visiting BravestarrCards.com: Card Collecting and TTM Autographs.
Information gathered using Wikipedia and Pro Football Reference.