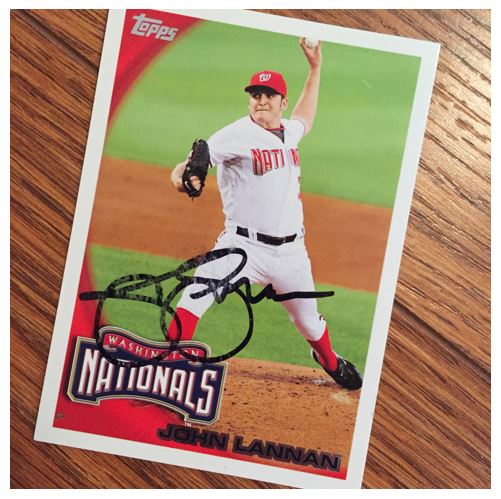 TTM Stats
Sent: 7/7/17 | Received: 9/5/17 | 58 Days
'10 Topps (did not return '14 Topps card)
Address: Long Island Ducks
The Story of the Autograph
John Lannan primarily pitched for the Washington Nationals from 2007-2012, but also pitched with the Phillies and the Mets after that. It appears he like the NL East. John was born in Long Beach on Long Island and currently plays for the Long Island Ducks in Independent Minor League ball. The Ducks have a habit of bringing in former major leaguers to play with them.
Something interesting is that John Lannan was the first player in a decade to be tossed from the game in his debut. He was playing the Phillies and hit Chase Utley (breaking his hand) and then Ryan Howard immediately after that. Two games later he missed being the pitcher to give up Barry Bonds record-breaking home run when Barry went 0-3 with a walk.
In 2012 Lannan started losing his grip on the Majors. He was beat out by Ross Detwiler for a spot in the starting rotation that year. He came back as a September call up when Strasburg went down but he did not fair well and was non-tendered by the Nationals.
It looks like I was lucky to get this as John announced his retirement on August 13th, 2017. Congrats on a good major league career Mr. Lannan!
The Score on John Lannan – 5.5


I really like John's autograph a lot. It's definitely loopy! The only problem is the it smudged. It looks to me like this wasn't a wipe across the card or anything. This appears to be related to maybe putting the card in the envelope wet. In the end this isn't the worst I've seen. The only real impact is that it kind of wore parts of the autograph out. There's a little transference to other parts of the card, but not much. I'll also need to remember if I try this with John again I'll just send one card (although it took me forever to find these in my collection). I would have given this a 7 or 7.5 if not for the smudges.
Thanks Mr. Lannan, too bad about the smudging… 5.5!
>> READ MORE ABOUT MY AUTOGRAPH SCORING SYSTEM <<<
Thanks for visiting BravestarrCards.com: Card Collecting and TTM Autographs.