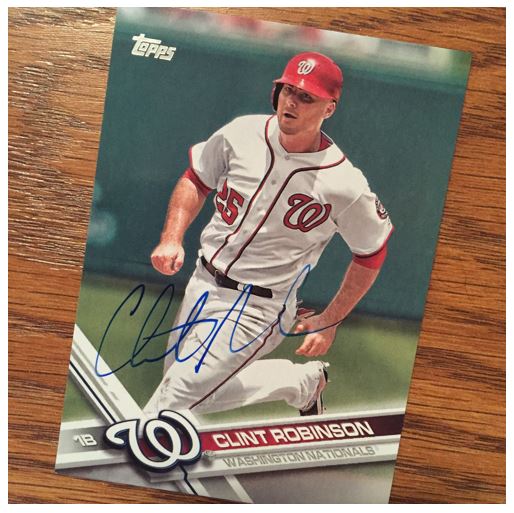 TTM Stats
Sent: 8/18/17 | Received: 9/5/17 | 17 Days
'17 Topps
Address: Syracuse Chiefs
The Story of the Autograph
Does Clint Robinson hate Ryan Zimmerman… No. Does Clint Robinson not like that because Ryan Zimmerman can't throw he was put at first base and there's really no spot for Clint… Maybe. Let's be honest, Clint hasn't showed the promise to be the first baseman, but I think you'd probably have to say that a little more playing time might have helped him to improve. That's one of the tough parts of the game I guess.
Here's a bit of a claim to fame though. Robinson was the first Nationals position player called on to pitch on 5/12/2015 against the Diamondbacks. He actually struck out Aaron Hill on three pitches.
The Score on Clint Robinson – 4


I'm only giving this one a 4. It's an OK autograph. I think what gets in the way with this one is really the pen that was used. It isn't a ball point (Thank God!) but it's a small Sharpie. You really have to have the right signature to pull those off. Clint really puts effort into his first name and his last name tails off. That tailing off really hurts it with that pen.
>>> READ MORE ABOUT MY AUTOGRAPH SCORING SYSTEM <<<
Thanks for visiting BravestarrCards.com: Card Collecting and TTM Autographs.