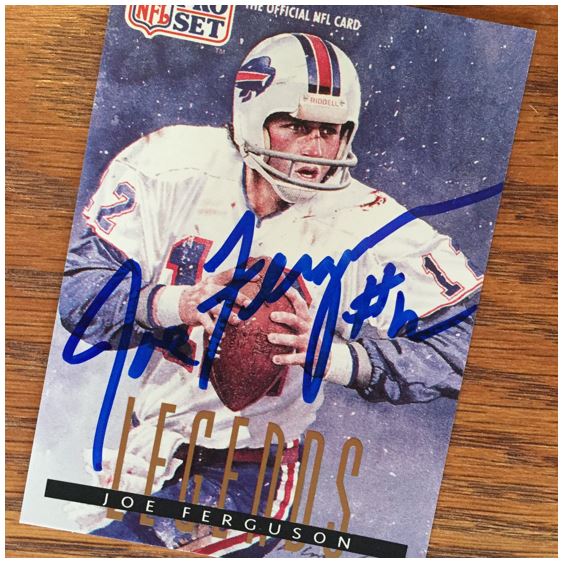 TTM Stats
Sent: 12/8/2017 | Received: 12/22/17 | 14 Days
'83 Topps, '91 Pro Set
Address: Home
The Story of the Autograph
Joe Ferguson played quarterback in the NFL from 1973 through 1990. The majority of that time (12 years) was spent in Buffalo leading the Bill offense. He also spent time in Detroit, Tampa Bay and Indianapolis.
Joe lead his high school team to a state championship in 1968 and succeeded Terry Bradshaw as the team's quarterback. From there he went to play at the University of Arkansas where he was named the Southwest Conference Offensive Player of the Year in 1971. The Bills would make him a third round selection in the 1973 NFL Draft.
Ferguson put up some solid numbers in his career. He would be in the top 10 in completions and yards four times, passing touchdowns six times, and yards per pass three times. He shared the record for consecutive starts at 107 until he was replaced in 1984. He made the playoffs three times and had a 1-3 record.
In 1995 he made an attempt to come back and play in the CFL with the San Antonio Texans.
In more recent years Joe has been dealing with cancer… and he's beaten it at least twice so far. Good luck Mr. Ferguson!
The Score on Joe Ferguson – 8.0


Sometime I looks at what someone's autograph is ahead of time and I go after them specifically. With these being some of the first football TTMs I've ever sent out I wasn't doing that yet. I just wanted to get some football in my collection. So with Joe I am very pleasantly surprised at how much I like this one. I love the backwards "F" that he uses in his last name and that "J" is cool too. His signature just flows really well.
This is a great example of using the full card too. The marker is really strong and it's a good weight and everything. That Pro Set card might be one of my favorites of the year. I might try to find more "art" cards to send out that are like that.
Thanks Mr. Ferguson. Great signature and these get an 8.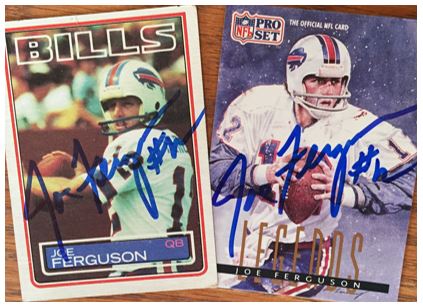 >>> READ MORE ABOUT MY AUTOGRAPH SCORING SYSTEM <<<
Thanks for visiting BravestarrCards.com: Card Collecting and TTM Autographs.