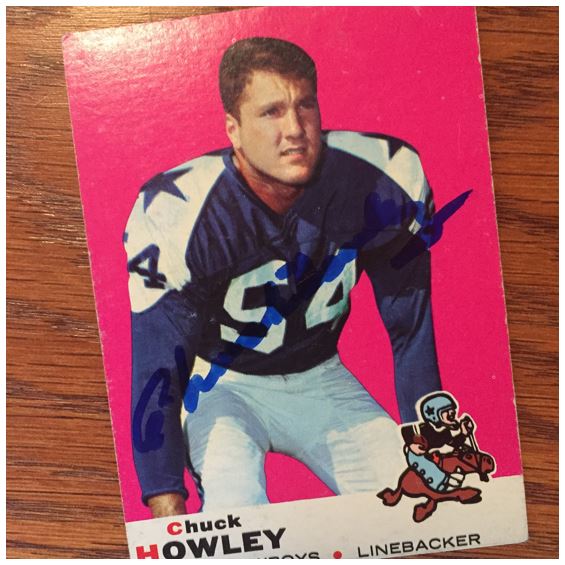 TTM Stats
Sent: 12/5/2017 | Received: 12/18/17 | 13 Days
'69 Topps
Address: Home
The Story of the Autograph
Chuck Howley played at linebacker in the NFL for 15 seasons. When I think about what I've seen about those days in the NFL, would linebackers not be the toughest dudes on the planet? Well, Chuck Howley was one them. He played for the Bears in '58 and '59 and then with the Cowboys for the rest of his career ('61-'73). He ended up playing in 180 games with 25 interceptions, 2 touchdowns and 18 fumbles recovered.
Howley grew up in West Virginia and played it all. He lettered in football, basketball and baseball and as a teenager he competed in gymnastics. Like a good West Virginia boy, he became a Mountaineer at WVU. He excelled in college but played at guard and center during his three varsity years. But even in college, it wasn't just football. Chuck is the only athlete in school history to letter in five sports: football, track, wrestling, gymnastics, and swimming. He even won the Southern Conference diving championship at one-meter.
While playing with the Bears, who selected him seventh over all in the 1958 Draft, he retired after what appeard to be a career-ending knee injury in training camp. The Bears traded his rights to Dallas when he decided to make a comeback. Howley joined the Cowboys and became a huge part of their "Doomsday Defense." He would end up playing in a few Super Bowls and he was even MVP of Super Bowl V. He was a six-time Pro Bowler and made several All-Pro teams.
He injured his knee in 1972 and tried to make a comeback in 1973 but ended up retiring for good. He spent 13 years with the Cowboys which is the second longest in franchise history.
The Score on Chuck Howley – 4.5


This is the first one of my '69 Topps cards that I sent out. I happen to have a bunch of doubles for that set so I decided to take a few chances. I can already see that these are a little touch for signatures. There's a lot of light and dark / all-or-nothing parts of these cards and that makes it hard to find a good spot for a signature.  Or for a guys regular signature anyway. In this case, Chuck signed right where you might expect him too, but with the dark jersey it makes it really hard to see the signature.
About his signature, it's one of the flatter ones I've seen. But there's a little symmetry to it with the front of it going up, then everything flat, and then the "y" going down.
Thanks Mr. Howley! The cards gets n the way on this one. I give it a 4.5.
>>> READ MORE ABOUT MY AUTOGRAPH SCORING SYSTEM <<<
Thanks for visiting BravestarrCards.com: Card Collecting and TTM Autographs.