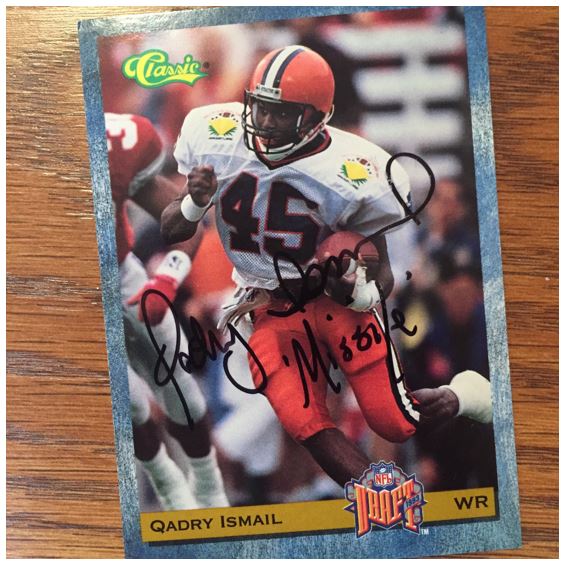 TTM Stats
Sent: 10/31/2017 | Received: 12/18/17 | 48 Days
'93 Classic, '93 Classic Four Sport
Address: Home
The Story of the Autograph
Qadry Ismail played wide receiver in the NFL and went to college at Syracuse University. He had a great career in college and was part of five bowl winning teams. He won All-America honors as a kick returner as well as All-Big East at wide receiver. After a successful career at college, Qadry was drafted with the 52nd pick by the Vikings.
His career in Minnesota never really took off. He never had more than 45 catches and never topped 700 yards. After four years with the Vikings he stopped at a few places but never really caught on. That is until he got to Baltimore. With Baltimore for three seasons (1999-2001) he had two 1,000+ yard seasons with highs of 68 and 74 catches in his best years. He also had a career high with seven touchdowns in 2001 and 18 touchdowns total in Baltimore.
His best individual game and career highlight also came with the Ravens. In 1999 against the Steelers he had a game where he gained 258 yards! Then in 2001 (after the 2000 season) the Raven defeated the Giants (ugh, this one killed me) in the Super Bowl and Qadry contributed with a 47-yard catch.
After football Ismail has worked as a broadcaster for college football and the Ravens. This spring he worked Baltimore Brigade games for the Arena League as a color commentator. He also coaches a high school track and field team.
The Score on Qadry Ismail – 7.5


Qadry has a really great signature. I'm not sure who I've gotten that has ever had a "Q" in his name at all let along a capital "Q". I think the standard Classic is the better signature because it's bigger, but it's the one that's harder to see. It's also the one that has a very slight smudge on it. But besides the signature, how could you go wrong with "Missile" as the inscription? That totally makes this for me. And I love that these cards feature him in college because that's really how I remember him best is as a member of the 'Cuse.
Thanks Mr. Ismail. These are great and I give them a 7.5.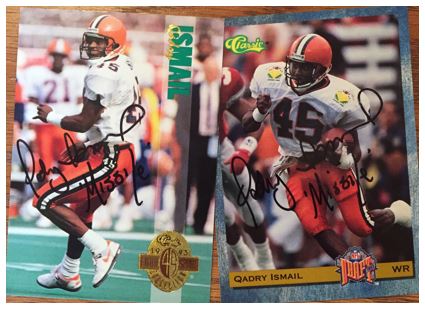 >>> READ MORE ABOUT MY AUTOGRAPH SCORING SYSTEM <<<
Thanks for visiting BravestarrCards.com: Card Collecting and TTM Autographs.