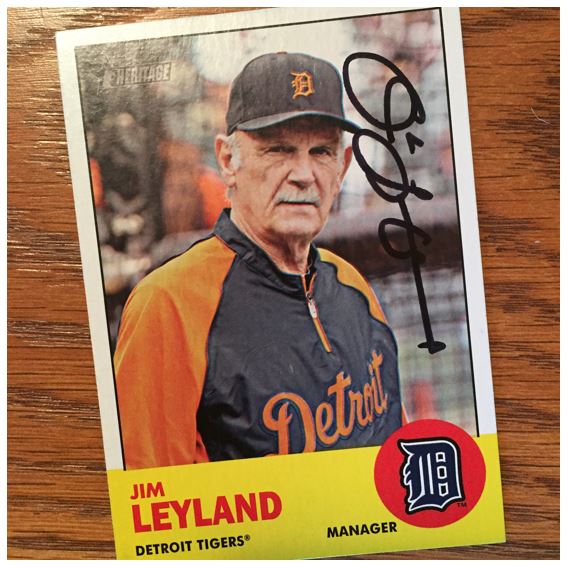 TTM Stats
Sent: 10/18/17 | Received: 10/26/17 | 8 Days
'12 Topps Heritage ('11 Heritage returned unsigned)
Address: Home
The Story of the Autograph
Jim Leyland is a former manager for the Pirates, Marlins, Rockies, and Tigers. He was named manager of the year three times (1990, 1992 and 2006).
Those Pirates teams were pretty good when I was growing up. Back then I don't remember as much "small market" talk as there is these days, but he sure did a lot with them while he had the talent. That said, they never got it done. They went to the NL Championship Series thee straight seasons from 1990 to 1992 and lost all three. But that's where Jim earned two Manager of the Year honors and finished as a runner up in 1988 and 1991. He helped develop guys like Barry Bonds, Bobby Bonilla, Jay Bell, Tim Wakefield and Andy Van Slyke before they were all gone in the mid-90s.
Leyland's biggest success came in 1997 with of all teams the Florida Marlins. Those were the days when they weren't Miami and they wore black and teal. They had only been in existence for five years when they won. After they won the team was completely sold off by the owner. He coached there one more season and went 54-108.
Leyland had a ton of success in Detroit as well. Unlike the success he had with the Pirates, that didn't end in the League Championship series. In 2006 his Tigers lost to the Cardinals, but Leyland earned his third Manager of the Year award that year. He got the Tigers back to the World Series in 2012 but they got swept by the Giants.
This year (2017), Leyland led Team USA to the World Baseball Classic title. He is the only manager to win both a World Series and a WBC title. Overall Jim won 1700 games and had a .506 record for his career in the regular season and had 44 additional wins in the postseason.
To show you how much some other guys respect him, Terry Collins of the Mets wore number 10 to honor him.
The Score on Jim Leyland – 7.0


I've always like Jim's signature. I like all the circles and loops and then the straight lines. He always signs clean. It just an all around great signature. It's always good, but…. I have ever liked that he signs the cards sideways. It's up to him I guess, but he always does it that way. Maybe that's his thing and he always does that to be different. Or maybe that's the way he signs TTMs.
I didn't take that much off for that because the autograph is really good. But I did doc it a little for that. Hey, it's a scoring system, it's mine and it's subjective.
I did send two cards (another Heritage from '11) which came back unsigned. That was a team photo card.
Thanks Coach Leyland… 7!
>>> READ MORE ABOUT MY AUTOGRAPH SCORING SYSTEM <<<
Thanks for visiting BravestarrCards.com: Card Collecting and TTM Autographs.